Pedro Delgado
Before there are champions, there are people that paved the road for others and, in some way or another, have served as role models for those that triumph in the future. Pedro Delgado has been that example.
Born in Segovia in 1960 he began his cycling career when he was 16 years old starting in the juvenile category. In the years following, he consolidated himself as a well known climber and at 19 years of age he began to receive offers to race professionally. But professional racing would have to wait; he had to complete his compulsory military service and his school studies (nursing).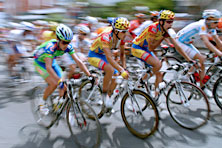 In 1982, he would finally take the step and go professional. In his first year he participated in the Vuelta a España as a gregario (a rider who supports the team leader). His first big win came in 1985 when he won the Vuelta, that same year he would win a stage in the Tour de France and finish 6th overall.
His next objective would be winning the Tour, but in 1986 he would have to abandon for the death of his mother and in 1987 he would end up losing to Irishman Stephen Roche in an epic battle between two great cyclists. All of his hard work would pay off finally in 1988. That year he would become only the third Spaniard ever to win the Tour de France and in doing so, would become a legend in Spain.
His attempt to win a second tour in 1989 would go unfulfilled but he did win a podium by placing third. He later won three stages in the Vuelta that year. In 1990, after a promising start to the tour, gastroenteritis would cut short his participation.
The 90's saw the emergence of a new Spanish star and fellow team mate, Miguel Indurain. Miguel would become a legend, outshining Pedro with his accomplishments—but what Indurain was able to do was due to the help Pedro offered him as a veteran teammate. Now that he had a successor, Pedro retired from professional cycling in 1994 and became a widely popular television commentator, which is where he remains today.
Also worth noting is that Pedro was the inspiration for the name of a Scottish indie-rock band, Los Delgados.
Other Famous Spanish people