Andrés Iniesta
For many, the player who we are about to tell you about is a complete contemporary hero. He scored Spain's winning goal on the 11th July in the 2010 World Cup final. His name was already famous, but that moment gave him glory: Andrés Iniesta.
He was born in 1984 in Fuentealbilla, Albacete (Castilla-La Mancha) and started to play in the youth team for Albacete Balompié when he was eight. When he was just 12 year old, he was the stand-out player at a seven-a-side football tournament, and he caught the attention of FC Barcelona.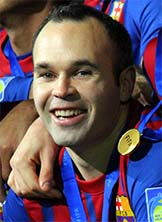 After training at La Masía (the famous Barcelona academy) he made his debut for the first team in 2002 at the age of 18. He was sharing his time between playing in the first division, and other subsidiary Barcelona teams until the 2004-5 season in which Andrés won his first league title. In the next season he repeated this as well as winning the prestigious Champions League.
In the following years he would become more influential in the team until he became the captain and also the ninth best footballer in the world In 2006, he made his international debut for Spain (before this he had played in all the youth teams). His durability strength and immense talent would become famous, for example, in the European Championships in 2008, he played in every single game of the tournament. As you know, he was part of the Spanish team that beat Germany in this tournament, but the best was still to arrive, that goal that we were speaking about in the first paragraph, the moment that made him become a legend.
Nowadays he is one of the best players in Europe; but he was at his best in 2012. He continues being a simple person, someone who knows, someone who knows how to deal with success, and one of those people whose success is celebrated as if it was your own.
Other Famous Spanish people