Alfredo Landa
This month's famous person always seemed to going through curious phases: he first became the most famous actor in Spain, then he went on to become an "inconvenient figure", and finally he 3earned a prestigious reputation and ended up becoming a beloved character in our world of cinema.
His full name was Alfredo Landa Areitio and he was born in 1933 in Pamplona. He was the son of a Civil Guard, which meant constant travel: He attended high school in Figueras (Catalonia) and ended up studying law in San Sebastián (Basque Country); but later he quit pursuing  his degree to focus on the dubbing of films and interpreting.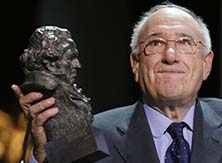 His career in the world of cinema started with the film "El Puente de la Paz" in1958.  From this moment on he would play different supporting roles in famous movies such as "Atraco a las tres" (1962) "El verdugo"(1963) and "La ciudad no es para mí" (1996)
His comedic capacity and ability to represent the average Spaniard of the time soon made him the protagonist of titles such as "Vente a Alemania, Pepe" (1971) "Paris bien vale una moza" (1972) and "Dormir y Ligar Todo es Empezar" (1974). At the time these films were hugely successful with the public, but represented the "españolada" that we have talked about in another article; simple films that were full of stereotypes. After the Franco era, film critics labeled their style as "landismo", named after the actor himself, meaning movie of little intensity and easy comedy.
But Alfredo Landa knew how to bounce back and he was able to prove something that observers had begun to doubt after the releases of several comedies: the fact that he was a great actor. He breathed life into a cynical, tough cop in "El crack"; his portrayal of a kind-hearted peasant that was humiliated in "Los Santos Inocentes", earned him a prize at the Cannes Film Festival; he won a Goya due to his interpretation of a mischievous rogue in "La Marrana"…while also participating in different television series.
In 2008 he won the lifetime achievement award at the Goyas that honored his entire career, and in 2011 he was awarded a star on the Walk of Fame in Marid. It was said of him that he was "the second last great symbol of the history of Spanish cinema"; and on May 9th, 2013, he passed away, admired and honored. Fortunately, as he said, history puts everyone in their place.
Other Famous Spanish people