Espido Freire
If we were to look at a photograph of this writer, the first thing we would notice would be her eyes: they are large and yet, at the same time, melancholy. They show the look of someone whose eyes see people living in misery and sadness, but can't avert them since it is his purpose to tell their stories.
María Laura Espido Freire (she goes by her last names only) was born in Bilbao to a family of Galician origins. She was raised to appreciate art at a very early age and even though her vocation is writing, she studied music and song. This proved to be painful for her emotionally—pursuing music while also studying law at the University of Deusto—since writing is her true passion and it is what she really wanted to do. All of this pressure led her to enter a state of depression and suffer from bulimia. Her profound sadness was rooted in her feeling of being trapped, including during those moments when she should have been most happy.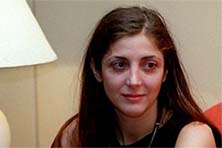 She finally decided to break with those things that were bringing her down. She changed her studies to English and began to write. At 24 years of age she wrote her first published work, Ireland. At 25, she published Donde Siempre Es Octubre and, later, became the youngest author to win the prestigious Planet Award with her book Melocotones Helados. Now she couldn't be stopped. Her desire to want to tell stories and delve into the psyche of her characters to try and uncover what makes a person capable of loving, fighting and, above all, resist. These themes have given her the ability to write numerous works that have been recognized with various awards and a loyal group of readers.
Espido Freire is considered one of the most interesting voices of her generation of Spanish writers. But she is more than this: she is an important driving force in the staging of literary workshops and has created her own writing school. This writer has been able to connect with the worries, hopes and frustrations of a generation of people that has been born with everything but who feel that now there seems there isn't anything left. Espido Freire also staunchly defends the rights of animals, which in her eyes are more pure and loyal companions than humans.
This writer has been able to find her own voice in an adverse world, being someone who can talk sincerely to the reader directly from the page just like a good friend who speaks to us with complete honesty.