Guggenheim Bilbao
Designed by Canada born Frank Gehry, Bilbao's spectacular Guggenheim museum stands at the forefront of a dramatic modernisation programme throughout the Basque Country and has transformed the city of Bilbao into a thriving centre for cutting edge arts.
The museum itself houses a collection of mainly temporary modern art exhibitions, showcasing pieces from both a national and international scene. However, many believe that Gehry's impressive creation is more awe-inspiring than the art which lines its walls. Frank Gehry was given the job of designing the new addition to the Guggenheim legacy in 1993 and the 24000 square metres titanium masterpiece was opened to the public in 1997.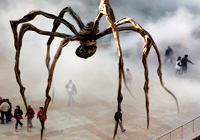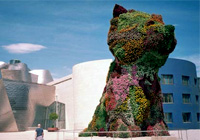 The Guggenheim Bilbao is a truly exquisite piece of architectural flamboyance in which Gehry has succesfully pushed the boundaries of modern architecture by maximising on technological advances. He was able to engineer the smooth curves and irregular design of the building by using CATIA, a computer aided design system. He began by making different scale models from paper and wood before attempting the real thing with enormous sheets of silver titanium.
The huge structure complements its surroundings with its curvaceous silver body work which evokes the shape of a majestic ship gliding over the sea. Gehry has been sympathetic to Bilbao's heritage as an important port city with a long fishing tradition. Close up the shiny titanium surface of the Guggenheim can be seen to have scales like that of a fish, which is further enhanced by the way the metallic material glistens in the sunlight . In addition to the city's proximity to the sea, the water theme is emphasised because the museum is also located right next to the River Nervión. The massive sheets of glass which form the centre atrium allow huge amounts of natural light to filter through into the museum. By night this adds a further dimension to the 'ship' as its centre is illuminated with warm tones which reflect on to the shiny surface of the exterior.
During its first decade of existence the Guggenheim Bilbao has triumphed in successfully achieving its goal - to draw attention to the city of Bilbao and regenerate the urban centre. Gehry's design is one of such architectural strength that it has fast become an iconic symbol of the city of Bilbao, and indeed the Basque Country as a whole. Every year the museum attracts visitors from all over the world and its popularity proves the power inherent in a masterful architect and an original design.
Guggenheim Bilbao Opening Hours and Entrance Fees
Tuesday- Sunday: 10am-20pm (closed Mondays)
July -August open Monday to Sunday 10am-20pm
Entrance between €6.50 and €12.50 depending on season/ concessions.