Museo Reina Sofia, Madrid
One of the world's most highly respected modern art museums has also been transformed into the pinnacle of contemporary urban architecture right in the heart of Madrid. Sign up for a Spanish course with Enforex at our Spanish school in Madrid, and you can have this incredible building - and its vast modern art holdings within - as part of your everyday life!
The Museo Nacional Centro de Arte Reina Sofia was originally opened in 1986 and quickly became the modern sector of Madrid's big three art wonderlands, alongside the Prado and Thyssen-Bornemisza. Located in an old hospital building, the Reina Sofia was initially revamped with the addition of some trendy glass lifts designed by British architect, Ian Ritchie in 1990. However, this it seems, was not enough and plans to extend and revamp the museum were under wraps by 2001.
French architect Jean Nouvel was called in to take on the gigantic task of not only designing a modern addition that would link harmoniously onto the old building, but also to regenerate the area, creating a space for people to go for a good dose of artistic respite in the city centre.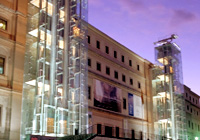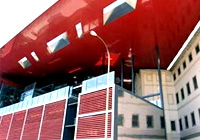 The Frenchman was adamant that he would create something entirely new for Madrid, something the bustling streets of the Spanish capital had never witnessed before, something foreign and innovative. And this is exactly what he did.
His spectacular extension was opened to the public in 2005 having cost a whopping €92 million, increasing the size of the Museo Reina Sofia by 60%. Nouvel's design links the old building with the new by forming a plaza in between the buildings - a shady space for the public to go which is bare apart from a towering sculpture of a paintbrush by Roy Lichtenstein. Other than that, the visitor can only feel themself immersed by fascinating structures which surround them, totally encapsulated by smooth architectural lines drawn by bold red matte mettalic slats which run horizontally along the glass sides of the building.
There is something futuristic about the building which includes a 450 seat auditorium, temporary exhibition rooms, a bar, restaurant, library and bookshop. Nouvel has focused on allowing us to see how his design works by not hiding a thing - for example, whilst seated in the chic bar-restaurant you can look up to find the ceiling is formed by the tiered shape of the auditorium.
A truly captivating architectural design, the modern extension of the Museo Reina Sofia successfully brings the museum into the 21st century, giving us much more to look at than just art. Nouvel has created a carefully measured space, which impresses its visitors without being overbearing or pretentious. A real pleasure to explore.
Opening Hours and Entry Fees
Monday - Saturday: 10am-21pm (closed Tuesdays)
Sundays: 10am-14.30pm
Standard Entry: €6
Concessions: €3
FREE ENTRY: Saturdays 14.30-21pm / Sundays 10am-14.30pm