Enric Miralles: Life Story
Enric Miralles was born in Barcelona in 1955 and throughout his architectural career he left his mark on buildings all over Catalunya and the rest of the world. Aged 15 Enric Miralles decided to enter into the Barcelona School of Architecture (ESTAB) where he studied until 1978. He complemented his studies by working part time at the architectural firm of Albert Viaplana and Helio Pinñón where he furthered his understanding and worked on some interesting projects.
After winning several competitions Miralles and his wife, Carme Pinós opened their own office where they worked between 1984 and 1991. This marked one of the most important stages un Enric Miralles' career, as he begun to receive international acclaim. Since the end of Spain's Franco regime in 1975, young creative minds like that of Miralles were blossoming and Spain underwent one of the most interesting architecture booms in history. Enric Miralles found himself right in the thick of it and his daring and original style was quickly recognised.
Then Miralles marriage broke up and so did his partnership with Pinós. However, they continued to work in separate offices until Enric married Benedetta Tagliabue in 1993 and mounted EMBT Architects. It is in this partnership that he produced some of his most famous works and branched out of Spain.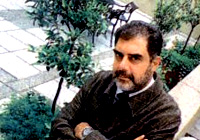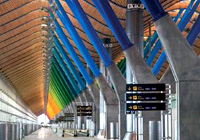 Sadly, Enric Miralles died from a brain tumor at the age of 45 before his greatest commission, the Scottish Parliament Building in Edinburgh, was competed. He was buried in the Igualada Cemetery which he had designed with his first wife, Carme Pinós. His second wife Benedetta continues to run their joint venture, EMBT Architects.
Enric Miralles: Architectural Style
Enric Miralles employed a careful study of the surrounding areas to form the designs for his buildings. He looked beyond the space in question and strove to bring harmony and meaning to the landscape. An acute awareness of the history of the buildings' setting allowed him to employ a sensitive take on architecture.
The materials used by Enric Miralles tended to be industrial and heavy whilst his designs were bold, complicated and eye catching.
Enric Miralles: Famous Works
1985-1994: Igualada Cemetery, Igualada, Barcelona.
1988-1991: Archery Range for 1992 Olympics, Barcelona
1990-1992: Pergola for Olympic Village, Barcelona
1997-2001: Santa Caterina Market conversion, Barcelona
1998-2002: Scottish Parliament Building, Edinburgh