Ricardo Bofill: Life Story
One of the most important architects and urbanists in the modern design world, Ricardo Bofill stands at the forefront of creating practical city plans. Born in Barcelona in 1939, Bofill studied at the Instituto Francés before entering into Barcelona's Escuela Superior de Arquitectura between 1955 and 1956. However, his stay was cut short as he was expelled for getting involved in a communist political group. This didnt impede Ricardo Bofill's professional development and within a year he headed off to Switzerland to study at the Geneva School of Architecture between 1957 and 1960.
Back in Barcelona three years later Ricardo Bofill founded his Taller de Arquitectura ('Architecture Workshop'). Together with a group of fellow architects, urbanists, engineers and representatives from all areas of the art world, his plan for the Taller was to analyse problems in urban spaces and come up with ways of improving them.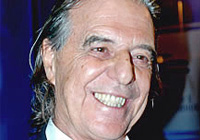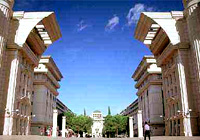 Since the opening of his first office in 1963, Ricardo Bofill has gone from strength to strength with offices opening in Paris and New York as well as Barcelona. He has also written numerous books on different aspects of architecture, space and urbanism. Bofill's Taller de Arquitectura continues to regenerate and create city plans and buildings today. They have also become particularly famous for designing the headquarters for some of the world's most imfamous ompanies from Shiseido and Christian Dior to Cartier and Axa.
Ricardo Bofill: Architectural Style
Ricardo Bofill's architectural style tends to evoke the eclectic themes of the post modern.
In addition to using contemporary materials like glass and steel, Bofill recalls more classical architectural styles and fuses the two together. Much of his work employs the use of columns, arches and ornamented facades backed by bold structures and clean lines which hint at something almost futuristic. Ricardo Bofill tends to strike a good balance between these styles to create buildings that are memorable and unique.
Ricardo Bofill: Famous Works
Rochas Offices, Paris, France (1986-1987)
Christian Dior Headquarters, Paris, France (1989-1992)
Catalunya National Theatre, Barcelona, Spain (1986-1996)
Palacio Municipal de Congresos, Madrid, Spain (1993)
Lengthening of the Paseo de la Castellana, Madrid, Spain (1997)
Cartier Head Office, Paris, France (1998)
AXA Head Office, Paris, France (1998)
Torre Dearborn Center, Chicago, USA (1998)
The City of the Future, Kawasaki, Japan (2001)
Shiseido Building, Tokyo, Japan (2001)
Algería, new capital city for Argelia, North Africa (2002)