Want to learn Spanish while enjoying a front row seat to some of the most exciting architecture of our time? With Enforex, you can!
Calatrava, a Valencia-born international architecture superstar, has works throughout the world. As a student at our Spanish school in Valencia, you will have easy access to Calatrava's City of Arts and Science, an incredible science and culture complex made up of huge, sleek and ultra-modern buildings. Simply sign up for any of our diverse Spanish courses and discover Calatrava's creative, jaw-dropping buildings.
Read on for all sorts of information about the life, influences, style and works of Santiago Calatrava, and we hope to see you soon here in Valencia!
Santiago Calatrava: Life Story
Santiago Calatrava is one of the most famous designers in the world whose unique constructions have stamped his footprints all over the globe.
Architect, artist or engineer? Santiago Calatrava's wealth of talents has allowed him to shine in many artistic realms, from pottery painting to engineering and, of course, the world of architecture. But how did he nurture these talents?
Born in Valencia in 1951, Santiago Calatrava was initially interested in becoming an artist. Aged 17 he planned to head to Paris and immerse himself in the thriving artsy melting pot that was the French capital during the 60's. However, his idea never came off and he ended up opting for plan B - studying Architecture in Valencia. Calatrava continued to acquire qualifications by going on to study a post-grad in Urbanism before heading off to Zurich between 1975 and 1979, where he obtained a PhD in Civil Engineering.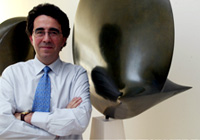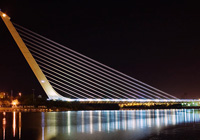 Santiago Calatrava settled and married in Zurich so naturally it became his chosen location to set up his first office. Beginning as a new, young architect was difficult and Calatrava spent several years entering competitions and trying to get his name about. After much hard graft in 1983 his design was chosen for the Stadelhofen Railway Station in Zurich which launched him into the limelight.
The following year a commission to design Barcelona's Bach de Roda Bridge served as an important moment in his career and led to many more bridge commissions. Today, Calatrava's bridges add finesse and sophistication to many of Spain's most iconic cities, as well as numerous international locations. They have become landmarks and tourist hotspots worldwide, and the most recognised symbol of Calatrava's work.
In 1989 he extended his architecture practice by opening a Paris office and two years later another in his hometown of Valencia.
Since the 80's Calatrava has headed for the stars, going to strength for strength and using his talents to push the boundaries of contemporary design and create some of the most inspiring structures of our time. And he shows no signs of slowing down as he continues to work on important projects, most notably, the World Trade Center PATH Terminal in New York.
Since he was awarded the Auguste Perret International Union of Architects prize in 1987, Santiago Calatrava has gone on to receive numerous medals for his work as well as 13 honorary doctorates.
Santiago Calatrava: Architectural Style
One of the most exciting innovators of modern architecture, Calatrava takes his inspiration from natural and human forms fusing them with his carefully chosen materials to create aesthetic harmony. His style is both unique and symbolic, recognisable the world over for the sense of movement that he manages to capture in a stationary object.
Calatrava makes his architectural structures so interesting by calling on his innate knowledge of engineering to use the technical structure of his creation as the basis for his design. Think long sweeping lines, stark white materials and a flawless use of glass and light.
The fact that much of his work is centred around water, like Valencia's Ciudad de las Artes y las Ciencias or his many bridges, adds a further dimension to his work. The reflections of the edifice often serve to give an enigmatic quality to each piece.
Santiago Calatrava's work is inspired by the things he sees around him, momentary images and happenings. The BCE Place Galleria in Toronto, Canada (1987-1992) evokes the feeling of being sheltered by palm trees as the tall white columns shoot up to the roof and fan out like leaves. The 'palms' then link together to form a fantasitcally modern vaulted ceiling.
The smooth and sweeping flight of an elegant bird inspired the spectacular extension for the Milwaukee Art Museum (1994-2001) whose immense 'wings' open and close with the museum. A similar birdlike structure seems to be at the basis of one of Calatrava's current projects too - the Qatar Photography Museum will be a graceful design which opens and closes depending on the amount of sunlight.
Santiago Calatrava is also responsible for the new World Trade Center permanent transportation hub, which is currently under construction. This sophisticated design is to be made from the architect's trademark white steel and represents a bird flying out of a child's hand.
Santiago Calatrava: Famous Works
There are so many wonderful buildings and bridges with the Calatrava stamp on them that we can't list them all - so here are some of the most well known, the majority of which you can look out for whilst in Spain:
Alamillo Bridge, Sevilla, Spain (1987-1992)
BCE Place Galleria, Toronto, Canada (1987-1992)
Montjuic Communication Tower, Barcelona, Spain (1989-1992)
Alameda Bridge, Valencia, Spain (1991-1995)
Ciudad de las Artes y las Ciencias, Valencia, Spain (1991-2006)
Opera House, Tenerife, Canary Islands (1991-2003)
Campo Volantín Bridge, Bilbao, Spain (1994-1997)
Milwaukee Art Museum, USA (1994-2001)
Manrique Bridge, Murcia, Spain (1996-1998)
Athens Olympic Sports Complex, Greece (Revamped for 2004 Olympics)