Christmas in Marbella
Many people think about Christmas as something "northern" that reminds us of being "inside": cold, snowy peaks, tall green firs... But Christmas is also about the south and Marbella is a great example. Okay, so you cannot go to the beach because it is winter, but the temperature is usually around 15ºC (59ºF) and the days are usually sunny, so it is quite nice. Imagine being able to enjoy all the Christmas lights of the season without worrying about catching a cold or being able to spend the evening at a Christmas market without freezing.
Precisely due to the peculiar climate Marbella has a distinguished Christmas due to its many outdoor events: markets, fairs, concerts... During this special time of year you can always find something fun to do without having to worry about more than just a light jacket.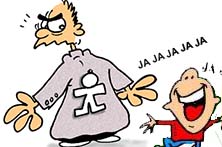 During Christmas time Marbella also has its own regional attractions. For example, have you ever of the "Innocents' Day?" For us it is similar to "April Fool's Day" and takes place on December 28th. The holiday is particularly fun to experience in Marbella due to the fun loving character of Andalusians who will always find a way to surprise you.
Another attraction in Marbella is the Picasso Museum. Yes, it is open throughout the year but over Christmas there are fewer tourists so you can visit the museum in a relaxed environment and no crowds. Such a luxury!
Oh! And if you can come the 13th of December than you will be met with a pleasant surprise: the Saint Lucia celebration. The numerous Swedish community of the city pays homage to their origins with this famous fiesta featuring young girls dressed in white robes and candle-lit crowns. A Nordic celebration in the Mediterranean is always something worth seeing!
A Christmas just as it should be, next to the beach... even if it is just to enjoy the beautiful backdrop of Marbella, what more can you ask for?
Other Spanish Festivals