Madrid and Semana Santa, the great unknown
Perhaps you are surprised in reading the title of this article and are wondering, is there really a Semana Santa in Madrid? Curiously, despite Madrid being the capital and most populated city in Spain, the week passes unnoticed. Why? We will give you some answers.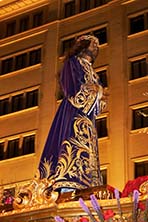 Some point to the lack of fame surrounding Madrid's Easter week because of comparisons with the spectacular Semana Santa that unfolds in Seville, Zamora or Toledo; or for others, it is the fact that, being the administrative capital, the city cannot be paralyzed for several days by processions; some say that Madrid is a city "made for traffic" and that if the processions were taken out of the historical districts, the traffic chaos would be terrible, and finally, there are those that say its historical interest is related to many churches, carvings and works of art being destroyed by bombing during the Civil War, with many guilds disappearing and running out of objects or relics to protect.
However, forgetting historical facts, growth, traffic and war we can say that Semana Santa in Madrid has a charm that few others have; its discovery. You may be wandering around at sunset in town and suddenly find yourself at a procession of Jesus of Medinaceli or an overwhelming procession of silence. However, we recommend going to a tourist office where they will give details about the routes of these processions…Or ask at our school! Some pass near us.
Other Spanish Festivals