Pamplona and what you didn't know about San Fermín
This is the most famous Spanish festival known around the world. Since Hemingway mentioned the Sanfermines in his book The Sun Also Rises until today, an innumerable amount of tourists have come to experience an incredible mix of fear and debauchery. This combination brings us to think about some curious facts that often get overlooked. Here are some San Fermín facts for you:
The red handkerchief symbolizes for many the blood that flowed from San Fermín when he was decapitated.
On the days leading up to the fiesta the most dangerous curves where the bulls travel on their famous run are treated with an anti-slip product.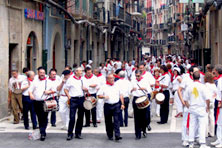 The patron saint of the city of Pamplona isn't San Fermín; instead it's Saint Santurnin. San Fermín is the patron saint of the community of Navarre.
Even though the San Fermín festival originated around 1591, the chupinazo (the bottle rocket that announces the beginning of the festival) began in 1931.
A typical running of the bulls lasts only a few minutes but there have been times when it has lasted up to half an hour! This happened in 1958 when one of the bulls refused to enter into the bull ring. Finally, a little dog appeared and began to bite the bulls legs and the bull quickly entered the ring. Later, the dog was paraded around on the shoulders of the crowd—just like the best bullfighters.
Be careful: There has only been one year when a goring did not occur—1968.
Other Spanish Festivals