Crosses of May in Alicante
The Christian tradition says that during the fourth century on the 3rd of May, St Helena, mother of the Emperor Constantine, found the cross on which Jesus was crucified. Many cities pay homage to this discovery, including Alicante, making it a lovely tradition.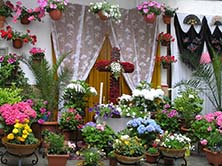 Every year, between the 2nd and 5th of May in the Santa Cruz neighborhood, the oldest of this city, honors this tradition and lives up to its name and celebrates the crosses of May. On these days the streets are decorated and crosses made of flowers are placed everywhere. The fact that Santa Cruz is on the slopes of Mount Benacantil makes the walk become a climb and a beautiful surprise lies in wait for those who make the climb.
There are parades, activities for residents and visitors and musical performances…but there is one little known event that clearly stands out: the street decorating contest. Every one competes, in a most laid-back fashion, to present the most beautiful, bright and florid display, where an almost poetical appearance delights residents and visitors alike. The real show is that of the crosses, so you will always see people admiring and taking photos of them…a curious display of ephemeral art.
Why not come and check out these amazing crosses for yourself in this picturesque neighborhood. A simple yet unforgettable experience.
Other Spanish Festivals