San Miguel in Granada
Every year, toward the end of summer, Granada's Albaicín district has a fiesta. It's modest, but intimate, and it's a great excuse to get to know a place that's almost as old as humankind. They say that "Granada was born in Albaicín" and Iberian, Roman, and Andalusí remains all confirm the saying. This neighborhood is set along a hillside and its winding streets and panoramic overlooks create a magical, even nostalgic atmosphere.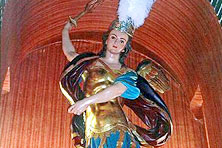 So what's it like here during the San Miguel fiesta? For many, it's a solemn affair. It has three fundamental events: religious services, a homage to the elders, and a pilgrimage. Interestingly, the pilgrimage has recently grown in popularity among Albaicín residents, so if you go you'll get to see a fantastic celebration.
San Miguel celebrations are not only religious in nature: there are also activities such as sports events, music concerts, an outdoor party, and of course, flamenco performances. Taking in a flamenco show backdropped by the beautiful Albaicín neighborhood is truly an unforgettable experience.
In summary, San Miguel is a neighborhood festival, but one with plenty of charm. Local residents organize it themselves and they're always happy to welcome anyone who wants to be a part of this authentic Granadin event that's full of stirring sentiment!
Other Spanish Festivals