Spain's Fall Travel Destinations
Many people associate Spain with hot sunny weather, but there are still plenty of dynamic settings to experience here long after summer has gone. You could even say that autumn is the perfect time to visit some Spanish cities.
Let's take Madrid as an example. Sometimes it feels like an oven in the summer months, but then in autumn it cools down and becomes an inviting city with mild weather. In early autumn, you can still see restaurants with outdoor seating, but the best thing about being here after the high season is that museums and other attractions are not as crowded.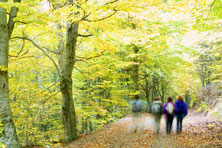 The same is true for other inland destinations like Segovia, Cuenca, Ávila, and Toledo. The hot temperatures cool off, letting us explore the rich heritage of these cities and wonderful natural landscapes bathed in the season's vibrant shades of red, orange, and yellow.
Andalusia's interior also offers some ideal places to visit during this time of the year. Cooler weather here also lets us check out the southern region's mountains and valleys. The Alpujarra area, located between Granada and Almería, is particularly picturesque with its charming little towns.
Many autumn time visitors to Spain immerse themselves in forest sceneries, like that found in Aragón's Ordesa y Monte Perdido Park, Castañar del Tiemblo Park (Castile and Leon), and the Irati Forest (Navarra). They get to enjoy fantastic natural surroundings far removed from the stereotypical beach vacation.
But if you insist on having a Spanish summer, you can even find summer weather in Spain's Canary Islands. Meteorological studies have shown that the hottest months on these islands are August, September, and October. Why? According to many, this has to do with the Canary Islands' subtropical location and an oceanic effect in which the water preserves heat.
Spain clearly has plenty of surprises in store for autumn-time travelers. We hope to see you here!
Typical Spanish