Spain in spring and early summer
Spring and early summer is perhaps the best time of the year for travelling to Spain: the chill of winter has passed and summer's sweltering heat has not yet hit. It's a period of mild temperatures across the peninsula, which means that a visitor could experience the festive joy of Seville and the mystic spirit of Santiago all in the same week without significant temperature contrasts.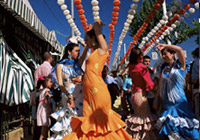 The transition between these two seasons brings a celebration of color and excitement; many cities hold festivals to welcome the blooming of the flowers. Festivities range from the famous, such as Seville's feria de abril, which captures the essence of Andalusia's music and culinary traditions, to the not-so-famous, like Madrid's feria de San Isidro, celebrated in May when you can try the magnificent and traditional rosquillas glaseadas (a type of glazed donut).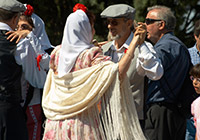 Spanish landscapes also treat visitors to scenery of exceptionally beauty. The valle del Jerte area in Cáceres (Extremadura) offers a wonderful example, where cherry trees in full bloom create a practically magical ambience. This is also an ideal time for hiking in places like Bosque de Oma in Vizcaya, where trees display geometric figures and eyes; the curious work of artist Agustín Ibarrola.
The time of the year when spring starts winding down and summer just begins to kick off also makes for a perfect period to go for the historic route that runs through Spain: the mystical and spiritual Camino de Santiago. If you'd like to live out an incredible and transformational experience, become a pilgrim for a few days. It's not an easy journey, but when you catch your first glimpse of the Cathedral of Santiago from Mount Gozo, you'll feel like it was all worth it!
If you're more of an urban type but you'd like to at least check out some nature then we recommend visiting city parks, particularly botanical gardens like the ones in Madrid and Valencia, where you can find plant specimens from around the world reveling in beauty and color.
If you're not into plants, you can also enjoy the year's first opportunities to have a drink and a snack outside at a bar with sidewalk seating. Taking a little break after a long afternoon of city-exploring may turn into a tribute to local cooking traditions in the form of tapas in countless varieties and tastes!
Music festivals in Spain also come in all varieties and flavors; here you can find anything from alternative and electronic music to hard rock in its purest form… there's something for everyone!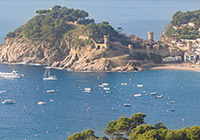 Wait a minute… here we are talking all about great weather, sun, scenic landscapes… and we've forgotten to mention the beach! That's right, the weather in some areas of Spain's coastline invites visitors to take a dip or sunbathe during this season. And if you come at this time you'll have the beach practically to yourselves. But you might not want to dive right in; the water might still be pretty cold!
Spain in late spring and early summer has plenty to offer visitors. Don't miss out on it!