Spain's unknown monuments
If you have been to Spain more than once it is likely that you will have seen our greatest monuments. However, you might also be wondering if there are more monuments than just the "traditional, typical" ones. The answer is yes, there are many, many more and it would take several books to talk about all of them. Well we don't have much space, so we have asked our writers to recommend some. This is what they have said: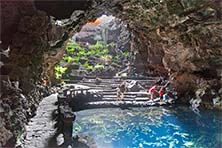 Los jameos del agua (water lagoons) Lanzarote: This complex of caves that have been in part designed by sculptor César Manrique can be found in the north of Lanzarote, where one can enjoy the stunning Canarian volcanic nature.
Cathedral in Zamora: a beautiful example of a Roman Cathedral in Castilla León. It was built in the twelfth century and is particularly well-known for its dome, in which many see oriental influences. By the way, it only took 30 years to build, which is incredibly quick for a cathedral of this nature.
The Alcántara Bridge (Cáceres): This Roman bridge of six arches is located in Extremadura. It has witnesses quite a few events in our history and has survived various partial destructions during the Reconquista, the Napoleonic Wars, the Carlist Wars...
Santa María del Naranco (Oviedo)"The church of St Mary at Mount Naranco": A beautiful example of pre-Romanesque Asturian art completed in 842. It is a curious case, because it has been a church since the twelfth century; however, given its structure, there are contemporary theories that state it could have been a hunting lodge or a recreation room.
Palacio del Infantado (Guadalajara) "Palace of the Infantry": It was built on the order of the dukes of the Infantry in the fifteenth century following the dictates of the Elizabethan Gothic (a term which refers to Catholic Queen Isabella). Interestingly it is the palace in which King Felipe II married his third wife, and it was also rebuilt after the Civil War.
Castro de Baroña (La Coruña): these remnants of a first century B.C Celtic population almost go unnoticed; but its spectacular location, touching the sea, make it a unique place. The buildings do not show the same Roman influences that can be seen in other forts of the same period, so many think that it could have been something like the Galician version of the Astérix village.
Palacio de la Aljafería (Zaragoza): It is the only building of importance that dates back to the era of the Taifa kingdoms (the different realms in which the Caliphate of Córdoba is divided): It was built by Al-Muqtadir, who was the Muslim king of Zaragoza back in the eleventh century. After the Christian re-conquest, it became the residence of the kings of Aragon.
We hope that you like this selection; and if not…you can suggest new monuments and sights for us!
Typical Spanish