Learn Spanish in Alicante
Our Spanish school in Alicante is located on the most well-known and lively street in Alicante. It includes eight spacious, well-lit classrooms fully equipped with modern technology and designed to accommodate 150 students. Enjoy free Wi-Fi throughout the school and spacious common areas where you will meet other international students to practice Spanish with. Hang out with locals at the numerous bars, restaurants, shops, and cafés surrounding the school. Take a short walk to the coastline between classes for a mid-day dip, and later watch the sunset by the Mediterranean Sea.
Minimum student age: 14 years old
Schedule: 9 a.m. - 5 p.m.*
*All schools open at 8 a.m. on Mondays for new students who need to take the placement test.
Location of our Language School
Benefiting from its privileged location on the most popular and celebrated promenade in the city, the Paseo de la Explanada. With its many attractions our Spanish school in Alicante runs parallel to the coastline just one street away from the sea blast and the soft sand.
One of the great advantages of its location is that it enables students to make the most both of their study and free time. Literally around the block from the center of town and the most active area in the city, you will find a plethora of bars, restaurants, and cafés within seconds, allowing you to go from serious studying mode to a vacation mindset. This will help you develop your practical Spanish skills as you interact with the locals.
On Paseo de la Explanada - the city's most famous street
A pedestrian promenade along the beach
Centrally located
Close to restaurants, cafés, bars, and clubs
Two-minute walk from the beach
Right by Rambla Méndez Nuñez, a main bus stop
Facilities that help you study
This two-story boutique school provides a unique atmosphere where students feel welcomed and at home right away. Enjoy beautiful views of the sea and harbor as you learn Spanish in Alicante.
8 spacious and well-lit classrooms
Multimedia center
Conference room
Computer lab with free internet access
Wi-Fi throughout the school
Wheelchair accessible
Teachers' meeting room
Spacious common areas
Air conditioning and central heating
Student Comments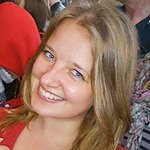 Nadia"An unforgettable two weeks at Enforex! I would like to thank all the teachers (Andrea, Raul and Jose) for their positive spirit, amazing lessons and high professionalism. I will miss our lessons!"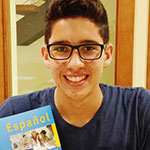 Tarcio"Since I'm 15 years old I was the youngest person in my group when we arrived and did the Spanish level test—I was very nervous! I started at the 12th level that afternoon and I found that there were people from all over the world in my class and we all wanted to learn Spanish!"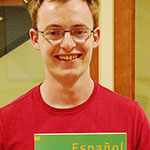 Andreas Lloya "I met my best friends on the first day of class and we had a fun time learning together. We would go out to dinner at a restaurant and also go to a karaoke with other friends. We sang and danced a lot."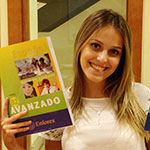 Izabela Fironcischini "The level test on the first day of class scared me and I was also a little nervous about meeting my new teacher and classmates. The class was very fun and I made lots of new friends. After class we would go outside and practice Spanish."
---