The symbols of the Spanish Semana Santa (Easter week)
One of the most famous festivals in Spain is undoubtedly Semana Santa. Centuries upon centuries have shaped a tradition that, admittedly, can be a bit "cryptic" given its multitude of symbols. Let's talk about some of them: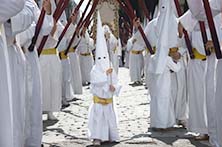 Hoods: The processions in which people walk the streets wearing high conical hats are world famous. These items of headwear are called "capirotes" (hoods) and originated during the time of the Inquisition when convicts were forced to wear similar hats. From the seventeenth century they started to wear them on their own accord. Its shape represents the approach of the penitent to Heaven.
Altar candles "Cirios": Cirios are enormous candles, often adorned with emblems of a congregation that are seen in churches. Their symbolism is simple: the new light of the resurrection.
Hearts: You will see the image of a burning heart wrapped in thorns emblazoned on clothes, banners and figures. This is the "Sacred Heart", a symbol that summarizes the life of Christ.
Saetas, "Sacred songs": Especially in Andalusia, you will hear these exciting songs with the procession of images. These songs date back to the sixteenth century, but this "aflamencada" version is from the nineteenth century.
Via Crucis, "Way of the Cross": You will have noticed that the Semana Santa processions pass by a fixed route and, occasionally, they stop for a few minutes in certain places. It is a representation of the path followed by Jesus Christ from his arrest to his grave. Every "stop" recalls the 14 most important moments of this journey according to the gospels.
There are more symbols, but these are the ones that are most asked about. We hope that these brief descriptions will help you to better understand Semana Santa.
Typical Spanish