Anne Igartiburu
If you ask a Spaniard to associate the name of someone to New Year's Eve, they will say "Anne Igartiburu" The television host has been hosting New Year's Eve celebrations cine 2005 on Spanish television. She is most known for leading the grape eating countdown tradition, but her career goes much further than that.
Anne was born in 1969 in the Basque town of Elorrio although you could say that she is a citizen of the world. At just 16 years of age she went to the United States to study Business Management and later complemented her studies with courses in France and Luxemburg. When she returned to Spain she started working at an engineering company located in Mondragón (Guipúzcoa). She would discover that her real vocation was far from the office world. That was when she started to specialize in communication and enrolled in theatre art.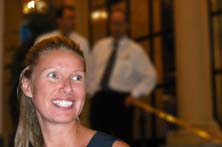 Her televisión career began on a local television channel in Mondragon. Her personality, kindness and beauty caught the attention of executives from the Basque Autonomous Community where she started working as a host and actress. She rose to fame on a television couple's game show that was one of the most watched at the time. Two years later she would sign-on to a state-run TV channel and become the host of what would become the most well known talk shows in Spain, partially thanks to her characteristic greeting to viewers "¡Hola, corazones!" (Literally: "Hello hearts!"). This would be the butt of many imitations and jokes, you all know how we can be.
The popularity of Anne would grow more as a result of different television ceremonies, but as mentioned above, we always associate her with the end of the year grape eating tradition every New Year's Eve. Time really flies as she has already been hosting the New Year's celebration in the Puerta del Sol in Madrid for 9 years!
Even though her face is one of the most recognized on television and her appearances are limited to certain programs and events, the restless Anne has also participated in all kinds of series and movies such as a film from the "Star Trek" franchise; although her part was later edited out of the final version.
So when you are in front of the TV this New Year's Eve and you are watching Anne explain to us how to avoid choking as we eat our 12 lucky grapes, keep in mind that you are watching a true professional. Heed her advice and enjoy our special traditions!
Other Famous Spanish people