Alaska
If Joey Ramone had adopted a daughter from Siouxie and David Bowie, the child would have been Alaska. That explains a lot about one of the most charismatic artists in our country. A singer, show woman and at one stage of her life a cathodic witch, she is still a living legend for an entire generation.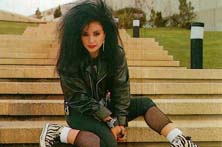 Olvido Gara Jova (Alaska's real name) was born in 1963 in Mexico, the daughter of an exiled Spanish father, Manuel Gara, and a Cuban mother, América Jova Cuban. An interesting mix of cultures added further by influence from American youth culture such as comics and TV shows like The Munsters, Star Trek or I love lucy.
In 1973 Alaska's family moved to Spain. The difference between Spain and Mexico couldn't have been greater. She found herself forced to move from a colorful, joyful country open to outside influences, to one that had remained in nearly complete isolation, with occasional exceptions, for decades by a dictatorship. The only discordant note was the punk movement that was breaking out in Madrid. Alaska quickly joined and together with a few friends she created the group Kaka de Luxe in 1977. The goal was to be exuberant and fun, in fact some members didn't even know how to play musical instruments. But the group became a cultural reference to the Madrid Movement, Movida Madrileña".
The group disbanded in 1978. Alaska had been influenced by the new wave and by bands like Siouxsie and the banshees as well as singers like David Bowie, and she returned with a new project; the now legendary Spanish group Alaska and Pegamoides. The group released carefree, lighthearted tracks such as Horror en el hipermercado (horror in the supermarket) and bailando (dancing).
The Pegamoides fell apart in 1982, but this led to the formation of Alaska and dinarama, another successful band that helped define an era and continued the legacy of Pegamoide. Hits such as Un hombre de verdad (a real man), Ni tú ni nadie (neither you nor anyone else), A quién le importa (who cares), ¿Cómo pudiste hacerme esto a mí? (how could you do this to me), and Mi novio es un zombi (my boyfriend is a zombie) were all tremendous hits.
Alaska curiously combined all of her musical activity with another unlikely activity. She was the host of a children's program loved by an entire generation of viewers. Alaska dressed up as a modern witch on La bola de cristal (The chrystal ball) revolutionalized Spanish television. Search the name of the show on the internet to find out just how "different" her kids show was.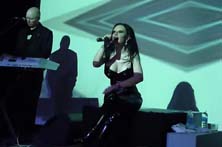 By the time the 90s rolled around, you would think that the la movida artist's star would have begun to fade. But it didn't. After Dinarama came Fangoria, a group that renewed the spirit of her punk rock attitude in which she adapted to new rhythms including that of techno music. Her charismatic personality continues providing memorable moments in the form of television and radio appearances. She even starred in her own reality show along with her also charismatic husband Mario Vaquerizo.
We recommend learning more about this dynamic Spanish cultural icon on the internet; she'll fascinate you just as she's fascinated Spain for decades.
Other Famous Spanish people