NEXT STOP-PAMPLONA
Pamplona is famous for its running of the bulls and the San Fermín festival, but there is so much more! The genuine Pamplona, placid and traditional, awaits you alongside an inimitable and dynamic Pamplona with exceptional nightlife.
Who hasn't wanted to feel like discovering a city that everyone thinks they know? Learn Spanish with us and we will show you a Pamplona that few ever see—unique, different and a place that you will fall in love with.
Read more
NOT DEFAULT RESULT DEFINED
NOT DEFAULT RESULT DEFINED
NOT DEFAULT RESULT DEFINED
NOT DEFAULT RESULT DEFINED
Our courses in Pamplona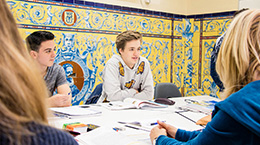 General Intensive Spanish Courses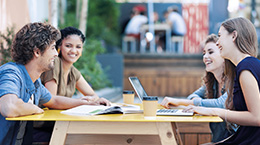 Special Spanish Courses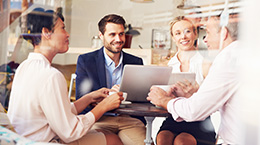 Business & Professional Spanish
Professional Spanish Program
Professional Spanish Program
Get to know our school
Our Spanish school in Pamplona is a magnificent setting to spend your educational vacation in Spain. We occupy the top floor of the city's prestigious medical school. From the building's elegant façade to its spectacular, glass-enclosed restaurant, you'll find that old world beauty meats modernity in our comfortable classrooms and library equipped with Wi-Fi and free Internet access..
5 minutes walking from the city's central square, "Plaza de Castilla"
Occupies the top floor of the "Colegio de Médicos"
7 classrooms
Wi-fi; 4 computers with free internet access in the library
Incredible restaurant set in a converted greenhouse; discounted 3-course lunch for students
Read more
They told us about their experience…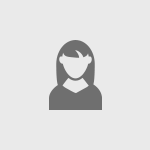 Samantha BrittI loved Enforex. I started off learning for school, but ended up learning for my personal enjoyment. My teachers and classes where fantastic. I will recommend to my friends that they come here to learn.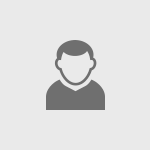 Gordon WolfeTo be honest ... I did not want to leave when my time was up. I enjoyed my classes. At this point, I'm planning to study again with Enforex ... possibly in Latin America in 2015.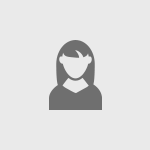 RebeccaMy Spanish classes in Madrid are also definitely starting to make an improvement on my Spanish too and I'm feeling more and more confident every day, although I think it will take a few more weeks before I'm completely comfortable talking to the natives. The Enforex School is great and all the material we use is very helpful so most of the time it doesn't even feel like I'm learning when I actually am!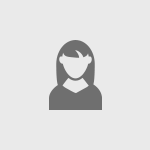 Rachael I am coming to the end of my first month of Spanish courses in Madrid and I am really happy with how they have gone so far. I feel like I am definitely making progress. A language course is definitely something I would consider doing for any extended period of time that I spend in the country, and I would recommend it to anyone. What I like most about the classes is that they don't feel like classes at all because they are made fun!
Our accommodations
At Enforex we have various options available for your accommodation needs to make you feel comfortable, as if you had never left home.
Live with an authentic spanish family
Learn more

Share your life and experiences with other students
Learn more

Live independently and with the privacy you desire.
Learn more

Activities
Free tour of Pamplona and its historic monuments, 2 days per week
Visit to the region's wineries
Excursions
Medieval cities on the Way of Santiago like Estella, Puente de la Reina and Olite
Nature activities like hiking, climbing, potholing, canoeing or skiing
Read more
Discover Pamplona
Pamplona, famous but unexplored.
The city made famous by Hemingway is more than just San Fermín and bullfights. Come and see for yourself!
Discover more
Talk to one of our advisors
If you have a doubt about your course or need advice on your enrollment.
We would be more than happy to help you so that you have the best experience.
Contact us