Spanish Language School in Madrid
Our school in Madrid is located in one of the best and liveliest neighborhoods in the city. It is found in an area filled with great student energy and activity. Every day after class you will have new opportunities to go exploring and practice all of the Spanish you've learned; making both the location and the school the perfect environment for learning! Our classrooms are spacious, well-equipped and filled with international students and the most passionate Spanish teachers. You will be surrounded not only by international students learning Spanish, but also by students from Madrid learning foreign languages with us. You'll meet Spaniards right at the school and be able to chat with them using the Spanish you've learned! You can also relax in the school's courtyard, browse the books available in our library and stay connected with the Wi-Fi available throughout the school. Our school in Madrid is the perfect place to learn Spanish and immerse yourself in Spain.
Minimum student age: 14 years old
Schedule: 9 a.m. - 8 p.m.*
*All schools open at 8 a.m. on Mondays
Location
Downtown in "Argüelles / Moncloa", the university district
5 minute walk from the University and Plaza de España
10 minute walk from Malasaña, one of the most popular neighborhoods for going out and eating out
Metro stops: San Bernardo and Argüelles
9 bus lines right near the school
Facilities
Recently renovated 2-story building with ample natural light
40 classrooms with audio-visual equipment
Large common room with vending machines
Computer lab and free Internet access
Wi-Fi (wireless access throughout the school)
Well-equipped library and video library
Teachers' room
Spacious central patio
Air conditioning and central heating
Student Comments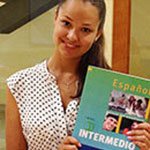 Elizaveta SlasarevaI thought my first day was going to be very difficult since I had to do a level test and find myself surrounded by lots of new people.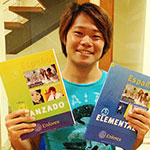 Yoshida Keisuke The first day I arrived at the school I couldn't speak or understand Spanish, so you can imagine how nervous I was. Even though the class was difficult for me, the teacher was very nice and that made me more comfortable.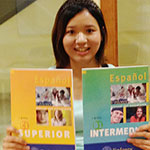 Chihiro MatsumotoI was nervous the first day I got to school and had to take the level test. I had just arrived in Spain too, so I wasn't familiar with anything about Valencia or the school.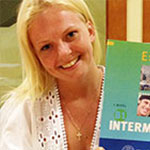 ArinaI had a great first day! At first I was pretty nervous because I didn't know anyone around me. It didn't take long to meet and get to know my classmates especially two girls: one from France and another from Russia.
---
Madrid: the city that only sleeps when it feels like it. Swinging, jiving and rocking like very few places in Europe, the capital of Spain offers the almost unique combination of being a large administrative center, with all the services and facilities, that such thing entails, and, at the same time, offering one of the most enthralling entertainment scenes around, packed with all the eccentricities that pertain to a modern metropolis. So, if you're looking for a Spanish School in Madrid that's just as diverse as the city, you've found the right place!
Equipped to house as many as 400 students, our Spanish school and summer camps in Madrid welcome pupils of all ages from around the world, as well as Spaniards who join us to study English, French and German. It's a tremendously multi-cultural environment, where everyone is open to meet other people, to exchange different impressions from distant perspectives and, ultimately, to experience something altogether new with people from other places who could, in the end, become your new best friends. All of this makes of our language center in Madrid a lively international schools that truly reflects the nature of this wonderful city.
Long Live Madrid!
At Enforex, we understand that regardless of where you are, the most important aspect to enable you to make the most of your experience is that you feel comfortable with yourself and with where you are. For this very reason we have made every effort to make our Spanish school in Madrid as cozy and comfortable as you would want it to be. To this end, we have conducted recent renovations in the building that houses our classrooms, incorporating all the latest technology into the infrastructure of the school. For instance, Wi-Fi access to the Internet is available throughout the premises.
Boasting up to 40 classrooms with ample room to carry out all sorts of didactic activities, our two-story building is perfectly equipped to deal with and make the most of the famous weather of Madrid: both air conditioning units and central heating ensure the rooms are kept at a temperate level throughout the year, and a a large garden feeds great amounts of light into the main structure. As well as the garden, communal areas include a computer lab with 20 computers, a video room and a quiet reading room, as well as a library with reading and audiovisual material.
Then again, with our school sitting just a few hundred yards away from the lively Calle San Bernardo and the legendary Calle Manuela Malasaña, it is more than likely that you will feel a sudden urge at some point during your stay to step out of the lovely nest we have built for you and venture into the wild world of tapas and copas outside. It's alright – we have gone through it all before and by now we have learned to cope with it. It's the laws of life, and so long as you are happy, so are we!
The Wide Scope of Culture
Get carried away with the full range of the term "culture" that you will find in Madrid: from the Habsburg to the Bourbons, past Franco's dictatorship and back again to the royal family, Madrid is vastly rich in history, despite it being a relatively young city. Not only that, in the triangle formed between the Museo de El Prado, the Thyssen-Bornemisza and the Reina Sofía you have one of the most densely populated areas in the world in terms of masterpieces per square foot!
In order for you to make the most of your time in our Spanish school in Madrid, we have devised special courses that will help you to develop your language skills in more creative and deeply engaging ways. Such as through our Spanish and Literature course, which combines General Spanish lessons with guided readings and special lessons oriented towards the understanding of literary terminology, or our Spanish and Flamenco course, which allows you the opportunity to learn all about the palos of the traditional dance, and to explain it to your friends, in Spanish!