Visit Playa del Carmen During...
If you can't quite decide when to visit Playa del Carmen, keep in mind that it is warm or hot all year-round, meaning you can easily lay out on the beach and soak up the sun in the middle of January. Late summer and autumn are wetter months and there's a possibility of tropical storms and even hurricanes. The good part? Many visitors avoid this time because of the rainier climate, which can result in great travel deals.
Otherwise, here are a few annual events in Playa del Carmen that you might be interested in being in town for.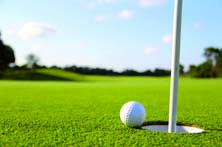 Mayakoba Golf Classic
February
This annual golf tournament is part of the PGA Tour schedule which sees the world's top players competing on the El Cameleón course, designed by Greg Norman.
Riviera Maya Underground Film Festival
October
This well-known short film festival features both national and international entries divided into three categories: documentary, experimental animation and fiction.
Riviera Maya Jazz Festival
November
The area's annual jazz festival features free performances at the Mamitas Beach Club by jazz acts from the region, the nation and around the world.
More About Playa del Carmen
More Mexico Travel Guides