Accommodations in Playa del Carmen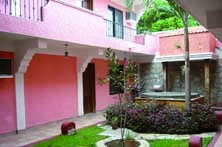 The city of Playa Del Carmen is located in the beautiful Riviera Maya, one of Mexico's most scenic locations, where our accommodations are carefully selected to ensure you have the most comfortable and enjoyable stay. This is a truly breathtaking part of the world and it is a place which will really blow you away if you get to experience it in full, so make sure that you take the time to explore it as much as possible and see what you can discover as you go out and about around the local area.
In Playa del Carmen we offer two types of accommodation for you to choose from depending on what will suit you the best, so you can set things up the way that you would like them to be and we will take care of all of the booking details on your behalf. Staying with a host family is a popular choice and gives you the opportunity to practice your Spanish at home as well as interact with the family. You will be able to eat traditional Mexican food prepared for you by the homeowner as well as taking part in discussions with them which will allow you to practice your language skills, and you will of course also be able to see how daily life is lived here to get a clearer idea of the culture which is behind the language and the way that it is used.
Alternatively we offer student residence accommodation with some of the school´s other students, where you will be able to get together with your roommates to study, go out on the town, or whatever other activities you might like to take part in. This is a great way to make friends, and if you are worried about the idea of going out to study without knowing anyone then this is a fantastic option as there will always be someone around who is looking to spend time with someone else and get the chance to look around as part of a group rather than on your own. Since everyone is in the same boat you will find that the other students are friendly and keen to get to know you! Each of our accommodation options has different ways in which you can change them in order to make them suit you better, as well as to fit any budget, as you can see:
Host Families (single or double room; half board or bed & breakfast)
Student Apartments (single or double room; no meals)
Student Residence (single or double room, no meals or bed & breakfast)
Rest assured that all accommodations are carefully selected to ensure a smooth, pleasant stay, and that we make sure that everything that you need is in place before you arrive. You can also talk to staff at the school after you arrive should you wish to make any changes or have a query about your accommodation once you are settled in.