Camp Trips in Spain
Each two-week session includes at least one full day and two half-day excursions to nearby sites of interest in the vicinity of the camp. These trips introduce students to the great diversity of Spanish culture, food and geography, and aim to take full advantage of the special attractions around each summer language camp.
Here are some examples of excursions that the campers at our summer Spanish language camps take. Please note that these are examples of typical trips and may be subject to change.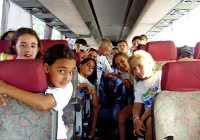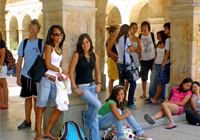 Barcelona Trips
Barcelona - hailed as Spain's capital of style, culture and architecture - holds a lot of youth-friendly attractions perfect for summer camp trips.
Full-day trips: Sitges, Tarragona...
Half-day trips: Park Güell, Tibidabo Amusement Park, Pueblo español...
Malaga Trips
Campers at the Málaga Summer Camp will also have the opportunity to discover beautiful Andalusian cities, such as Sevilla, Granada or Córdoba.
Full-day camp trips: Sevilla, Granada, Córdoba, Nerja Caves
Half-day camp trips: Picasso Museum, Botanical Gardens, Marbella, flamenco show...
Madrid Trips
From the Madrid Summer Camp, students embark on journeys to nearby medieval cities with a strong Judeo- Christian, Roman and Muslim influence. They will discover the world's second-oldest university in Salamanca, the Roman aqueduct of Segovia, get to know their host city, Madrid, in depth, and much, much more.
Full-day camp trips: Toledo, Segovia
Half-day camp trips: El Escorial, the Aqua park, the historic center of Madrid, the Prado Museum, Aranjuez, a city tour of Madrid and other routes of interest
Marbella Trips
We take full advantage of our campers' stay in Marbella & the Costa del Sol. Andalusia is the heart of Muslim and Roman Spain and the birthplace of Flamenco, so students may visit the ancient and vibrant cities of Seville and Granada, plus Puerto Banús and nearby mountain ranges.
Full-day camp trips: Seville, Granada, Tarifa and Ronda.
Half-day camp trips: Puerto Banús, Mijas, Sierra de las Nieves, a city tour of Marbella.
Salamanca Trips
Using the welcoming, classical university city of Salamanca as a starting point, students will explore the walled city of Avila, the Spanish-Portuguese border city of Ciudad Rodrigo and various nearby villages that preserve medieval architecture.
Full-day trips: Avila, Segovia, Portugal, Ciudad Rodrigo and the picturesque villages of La Alberca and Alba de Tormes.
In-city tours: local sites of cultural and historical interest such as Salamanca's two cathedrals, the Palacio and the Casa de las Conchas.
Sevilla Trips
Paricipants in the Sevilla Junior Program will be able to join the weekly day trip, held each Saturday to nearby cities, beaches and more.
Full-day trips: Costa de la Luz, Córdoba, Cádiz
Half-day trips: City Tour, Itálica, historic center of Sevilla, Parque del Alamillo
Valencia Trips
Students at the Valencia Summer Camp will take trips to beaches in and just outside of the city, as well as full day excursions to nearby towns in the region. There is a lot to see in the old part of the Valencia and, on the other hand, Santiago Calatrava's futuristic City of Arts & Sciences is always a camp trip favorite.
Full-day trips: Alicante, Sagunto
Half-day trips: City Tour, the City of Arts & Sciences.