Learn Spanish in Spain and Latin America
At Enforex, we understand that the most important thing in our courses is its students. For that very reason we have designed a series of programs, which are governed, above all, by the principles of flexibility, variety and quality in order to provide the best and most convenient service possible. With more than 20 different Spanish courses conceived individually to target people with totally differing interests, Enforex schools all over Spain are certain to offer the right choice for someone like you.
As a general rule, our courses have been tailored to adapt to the need of our students, rather than forcing the compromise to come from our customers. In this respect, we have singled out a set of characteristics that apply to most general courses and that give freedom of choice to prospective students in terms of when, where and for how long they wish to embark on this adventure with us.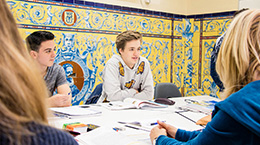 Long Duration Course
Travel & Learn Spanish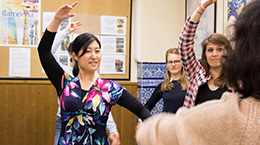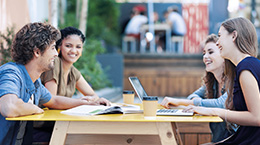 Spanish for Adults 50+
Student Group Travel
(8+ students)
PAU Preparation Course
University Placement Course
Spanish Program with University Credits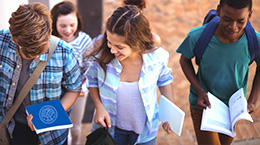 Learning Spanish is easy with Enforex. Here are some of the benefits:
Courses starting every Monday, all year round
Minimum course duration: 1 week, and up to 1 year
Maximum 10 students per class, average 5-6
Combine your course in different cities!
What's the best way for you to learn Spanish?
Languages are like the people who speak it, and no two people are the same. Therefore, the characteristics of the language spoken by each person will vary according to their interests, their requirements, their needs. The programs at the various Enforex schools in Spain evidence precisely the sort of diversity we have come to expect from our students. Below you will find a short summary of the kinds of Spanish classes available at our academy:
General Intensive Spanish Courses
The perfect choice for those looking to optimize their stay in Spain and truly delve into the intricacies of the country's language and culture. Intensive and super intensive programs comprising up to 20 weekly lessons, plus five hours of cultural studies. General intensive courses are offered in various formats, from individual weeks, to long duration spells of more than 10 weeks, or full academic semesters. Forming the core of our offer, they are taught in all Enforex schools in Spain, and you can even travel from city to city and keep up to date with your course for no additional cost.
---
Special Spanish Courses
Specifically designed for prospective students with a given purpose in mind, these classes take in consideration the individual need of each person, shaping the direction of the lessons accordingly. From private classes with one, two or three individuals, to courses devoted solely to mature students, over 50 years old, our special Spanish courses are also highly popular among students looking to achieve the PAU certificate to attend a Spanish University or the official DELE certificate of Spanish proficiency. Flexible and fun, the special courses include some of the most ingenious offers we have envisaged at Enforex, such as the convenient Christmas course that spans two weeks in December.
---
Business & Professional Spanish Courses
The benefits gained when you learn Spanish in Spain are many and highly varied, yet one of the most appealing factors revolves around the advantages within the labor market provided by proficiency in a foreign language. Conscious of this factor and aware of the increased demand in commercial Spanish, we have devised a series of business Spanish courses, aligned with a number of disciplines where Spanish might be particularly useful, from Engineering to Medicine, going through teaching and the hospitality industry. If you are looking to find a placement as an intern or a paid trainee, while improving your Spanish you might well find the perfect choice for you here.
---
Spanish & Leisure Activities Courses
Discovering the allure of a country can is much more personable (and exciting, really) if you do it personally than if you simply read it. That is why we have come up with a varied selection of leisure activities to go with our Spanish courses, which will show you the most appealing and often neglected side of Spanish culture. Whether exploring the marine diversity of Tenerife, discovering the fineries of Spanish recipes, putting a ball in the beautiful courses in Marbella or dancing to the tune of the different palos of flamenco, learning Spanish need not be a passive activity.
---
Junior Spanish Courses
Speaking about fun, we offer a specialized set of courses for teenagers, organized around high school programs and academic years as well as independent intensive courses similar to our general intensive initiatives but with specific emphasis on the interests of children from 14 years of age onwards. Additionally, we have a comprehensive array of international summer camp programs that run through the months of July and August.
Need help finding your perfect course? Try our interactive course finder, a handy tool that matches your preferences to our courses to find the course that's right for you!