Flamenco Guitar: History
The flamenco guitar's roots are planted firmly in the Moorish and Spanish cultures from which it evolved. In fact, the guitar itself is a mixture of elements from instruments hailing from both cultures. While flamenco dancing may be the most visually stunning aspect of a flamenco performance, the artform revolves completely around the song. As many of the songs emerged centuries ago during epochs of ethnic persecution, you'll find that the powerful voice of the singer laments hardships and desperation and yet hope for a better future. The guitar originally came into play with the purpose of accompanying the singer. Nowadays, however, mastery of the flamenco guitar has proven to be an incredible artform of its own.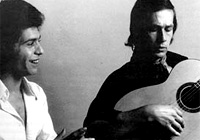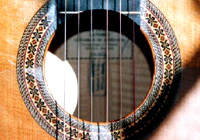 Flamenco Guitar: Description
Made of Spanish cypress and spruce woods, the flamenco guitar is lighter and features somewhat smaller dimensions than its classic counterpart. The result? Its signature sharper - and almost even metallic- sound. There are also some interesting distinguishing features of the flamenco guitar and the way to play it. The rhythms and strumming patterns are clearly different, for example. Instead of sheet music there are rules to playing the Spanish guitar, but mastery requires a good ear and relies heavily on spontaneity and improvisation. Also, instead of a pick guard, you'll notice a slightly different barrier on the guitar which allow the guitarist - or tocaor - to tap his fingers against the guitar while he is playing. The result is a one-man show, as he simultaneously provides melody, percussion, and auditory delight to whoever is lucky enough to be around.
Famous Flamenco Guitarists
Many flamenco guitarists are part of family dynasties of tocaores, as it seems the talent is passed down from one generation to the next. One stand-out example is the superstar guitarist Tomatito, who inherited the ability from his father, Tomate. Interestingly enough, Tomatito's daughter continues the family flamenco tradition as a flamenco singer who has emerged as a huge promise.
Well-known tocaores of late include:
Tomatito

Paco de Lucía

Paco Pena

Manolo Sanlúcar

Enrique de Melchor