Music for All in Madrid
Madrid tends to have one the most interesting concert schedules in all of Spain and November is no exception. In November we'll be able to see classic groups, new talent on the rise, pop idols, tribute shows and even historical recreations through flamenco.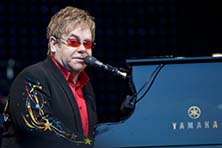 The one and only Elton John will come to Madrid on November 1 at the Palacio de los Deportes. So break out your wildest glasses and prepare to sing along to "Crocodile Rock". Another classic, of the domestic variety, is the great Raphael. He will be performing from November 26 to 30 at the Teatro Compac Gran Vía
We should assume that the fans of Enrique Iglesias already know it, but we'll let you know anyway. This Latin singer will perform at the Palacio de Deportes on November 15. On that same day, James Blunt will appear at the Circo Price. Later at the Palacio de Deportes on November 26 the talented guitarist and singer, Ed Sheeran will be in concert.
November will be a busy month for British musicians in Madrid. But what band could be more British other than Queen? On November 3, 10 and 17 you can attend the Queen Symphonic Rhapsody, which is based on the legendary song "Bohemian Rhapsody" performed by Queen and sung by Freddie Mercury. This show will be held at the Teatro Nueva Alcalá.
If you are looking for something more "Spanish", you can go see the flamenco bailaora Sara Baras. Her new show, La Pepa, is inspired by the history of the city of Cádiz during siege of Napoleon in 1892. You go from November 8 to 23 at the Teatro Compac Gran Vía.
Music for all tastes is always happening in Madrid and, unfortunately, we couldn't include everything. However, as you can see, if you are a fan of live music, then Madrid is the place for you.