Learn Spanish in Tamarindo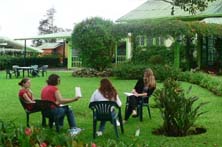 Our classes in Tamarindo are fun and effective and they'll leave you will plenty of free time to explore the area or sign up for one of our afterschool school workshops or activities. You can take an intensive group course or an individual course, which will give you the chance to learn more quickly and focus on your personal language needs and interests. Each lesson lasts 55 minutes and class is usually held in the morning but may be held in the afternoon during the high season.
Spanish Courses in Tamarindo, Costa Rica
We know that your decision to learn Spanish in Playa Tamarindo is not based solely on the quality of the classes, but also on the engaging activities offered here, such as: Costa Rican cooking classes, salsa dance lessons, trips to national parks, kayaking, surfing, rafting, interesting lectures on Costa Rica's lush eco-systems, history and politics… Every day with us in Tamarindo will be an adventure!