Learn Spanish in Playa Jaco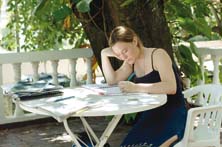 The Enforex school offering Spanish courses in Playa Jaco is located in a beautiful residential neighbourhood, just a short way from the beach and close to everything a student could ever need. Within easy walking distance you will find restaurants, shops, and many other local resources, and the school itself features some great amenities. The traditional Costa Rican house includes a tropical garden full of exciting plants, a swimming pool for students to enjoy, a kitchen area, and a terrace, with free internet access during the day.
The following Spanish courses are available in Playa Jaco. Click on the Spanish course you're interested in to see more details.
Spanish Courses in Playa Jaco, Costa Rica
The laid back vibe of Playa Jaco is all pervasive, and you cannot help but relax during your time here – this is the ultimate Costa Rican beach town, known as a surfer's paradise with fantastic waves. The beaches are sun drenched and make for the perfect sunbathing locations, and you will love heading out after lessons to enjoy an afternoon spent lazing around on the sand. The area is exceptionally beautiful, so even going out for a walk can be exhilarating – be sure to pack a camera to capture all of the amazing sights that you will want to record to show everyone back home and help you remember your time in Playa Jaco.
There are four different Spanish courses offered by the school here: the ever popular intensive course is available here as at all of our Spanish language schools, and it is perfectly formulated to provide just the right balamce between lessons and time off to make sure that you go home with both a new understanding of the Spanish language and the true relaxation brought around by a real holiday.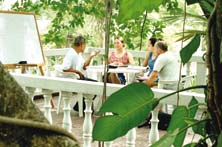 The second option available in Playa Jaco is the private Spanish lessons course, which gives you half as many lessons as the intensive course but gives you the full attention of your own personal tutor. This is a great option for those who struggle a little with their confidence in language, as it can help you build up to a good level of language without spectators, and also for those who wish to have a little more time every day for relaxing or exploring Playa Jaco.
Additionally you can choose to combine a bit of both by opting to study the Super Intensive combination course available here. This involves 20 lessons per week as part of a group, complemented by 5 One to One lessons. You will begin to see your Spanish improving in no time at all!
Meanwhile, if you want to spend some time helping others, our volunteer program is a great way to start. This comprises four weeks of Spanish study to help you get your language skills up to scratch, followed by four weeks of voluntary work around the area that will be as rewarding as they are useful – both to the people that you are helping, and to your own language proficiency.