LEARN IN MALAGA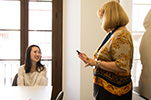 Malaga Enforex is a great home base for exploring the city, Andalusia and all of Spain! Malaga is full of hidden corners just waiting to be discovered and our courses help you navigate. We offer more classes then ever so you can chose between small group classes and private lessons, conversation lessons or specific classes based on history or the DELE exam. Let our expert teachers prepare you for the SEILE or Chamber of Commerce Exam. We also offer internships and gap years. Find out more about our courses and sign up for an incredible Spanish learning experience!
Our intensive courses stand out above our competitors - they are fun and focused on real experience. Students can choose between our Intensive Spanish course of 20 lessons per week and Intensive Spanish Plus, which is similar but with five additional conversation lessons to get you speaking with confidence. You can also add specialized Spanish classes to your course. You are going to learn so much more than you ever imagined!
We take Spanish classes to the next level! In Malaga, you can take a course customized to your interests and help you accomplish your personal goals. Have an unforgettable Gap Year, intern at a Spanish company or train to be a Spanish teacher! Whatever you are looking for, Enforex Malaga has it!
Maybe you already know you can speak Spanish, however officially certifying your level will give you many academic and professional opportunities. We offer classes to prepare you for the DELE and the SIELE exams. Think of it as an investment in your future and ask about the possibilities today!
Our youth programs are fun, engaging and very special. We have junior courses available all year round, as well as summer camp for adolescents and teens. At Enforex, kids enjoy an unforgettable adventure full of activities, workshops, classes and sports. Let the adventure begin!
The following Spanish courses are offered in Málaga. Please use the links below to consult complete program information.
---
Learn more and register for a course with no commitment
20 types of Spanish programs for all ages, with accommodation & excellent services.
---