Learn Spanish with Interactive Classes
You will be learning from the second you arrive in Malaga. Everything will be a new experience full of non-stop learning opportunities. But when it comes down to the specifics of the Spanish language, there's no better way to soak in all the information you crave than with our Spanish courses. Check out all of the courses we offer in Malaga and choose the one that's right for you.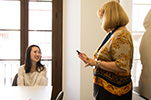 Our Spanish courses in Malaga offer a wide variety of class formats and activities that will help you navigate your way to the heart of Spanish. You can choose to learn Spanish with small group classes, private lessons, conversation workshops, or with specific classes based on the DELE exam, for example. Let our expert teachers prepare you for the SIELE or Chamber of Commerce Exam. We also offer internships and gap year programs. Find out more about our Spanish courses in Malaga and sign up for an incredible learning experience!
Our intensive courses are fun and focused on giving students real experience listening and communicating in Spanish. Students can choose an Intensive Spanish course with 10, 20, or 25 lessons per week or the Super Intensive Spanish course, which has 20 group classes, 5 culture and conversation workshops, and 5 semi-private classes per week to get you speaking with confidence.
We take Spanish classes to the next level! In Malaga, you can take a course customized to your interests to ensure you accomplish your personal goals. Have an unforgettable gap year, sign up for an internship at a Spanish company, or take private classes and learn Spanish at your own pace! Whatever you are looking for, Enforex Malaga has it!
Officially certifying your Spanish level will give you acess to lots of academic and professional opportunities around the world. We offer classes to prepare you for the DELE and the SIELE exams. Think of it as an investment in your future!
Our youth programs are fun, engaging, and full of Spanish culture. We have junior courses available all year round, as well as summer camps for children and teens. At Enforex, kids enjoy an unforgettable experience full of activities, workshops, classes, and sports. Let the adventures begin!
Spanish Courses for Junior Students
Exam Preparation Courses
Business Spanish and Madrid Chamber of Commerce Exam Preparation

Learn more and register for a course with no commitment
20 types of Spanish programs for all ages, with accommodation & excellent services.
---