Spanish Language School in Marbella
Our Spanish school in Marbella is found in one of the best locations in the city. It is less than five minutes from the beach. It is also located just a few minutes from all of the city's main attractions. Learning Spanish at our school is truly a pleasure! Our classrooms are spacious, bright and are equipped with the best resources. Our Spanish teachers are committed to teaching you Spanish in the most efficient and effective way, while always keeping class fun and interesting! When you want to relax between classes all you have to do is wander out to our wonderful terrace to chat with other students in the warm, Andalusian sun. And don't worry, we have free Wi-Fi, so you will be connected with friends and family (to make them jealous!). Come see for yourself!
Minimum student age: 14 years old
Schedule: 9 a.m. - 5 p.m.*
*All schools open at 8 a.m. on Mondays
Location
Downtown
5 minute walk from the beach and the Maritime Promenade
Next to various bus lines
Facilities
New 3-storey building
17 classrooms (14 inside and 3 outside) with natural light from the terrace
7 computers with free Internet access
Wi-Fi wireless internet throughout the school
Each classroom has audio-visual equipment
Huge terrace, 3,500 m2
Air conditioning
Large common room with vending machines
Study hall / reading room
Library services (books and videos)
Teachers' room
Students Comments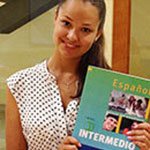 Elizaveta SlasarevaI thought my first day was going to be very difficult since I had to do a level test and find myself surrounded by lots of new people.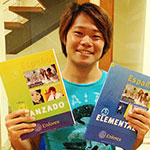 Yoshida Keisuke The first day I arrived at the school I couldn't speak or understand Spanish, so you can imagine how nervous I was. Even though the class was difficult for me, the teacher was very nice and that made me more comfortable.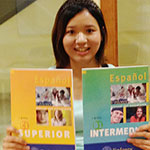 Chihiro MatsumotoI was nervous the first day I got to school and had to take the level test. I had just arrived in Spain too, so I wasn't familiar with anything about Valencia or the school.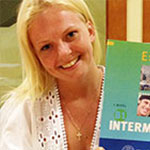 ArinaI had a great first day! At first I was pretty nervous because I didn't know anyone around me. It didn't take long to meet and get to know my classmates especially two girls: one from France and another from Russia.
The coexistence of students from many different nationalities in our Marbella school is an incentive to learn Spanish which pushes students to work harder and learn quicker. This means that our students move and progress in a multicultural environment where emphasis is given to teaching Spanish in the academic atmosphere so that students can develop both their language skills and cultural understanding – which is essential to being understood in full as well as to using the language in a more effective and authentic way. This adds up to make a more effective learning environment for everyone that is involved.
The location is also an attractive characteristic of the school which helps to create a more interesting learning environment. In the heart of the city and just a few minutes from the beach, the school is perfectly located within easy reach of most of the main attractions of the city which you are sure to want to visit. This means that it makes a perfect departure point for cultural visits, walks or beach trips organized by students after class as well as your own personal exploration. This also adds up to mean that it is a great place not only to learn but also to have fun!