Introduction to Puerto Vallarta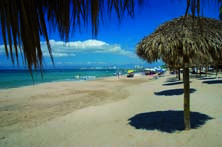 From mountains and tropical jungles to beaches and waterfalls, there's no doubt that Puerto Vallarta's natural surroundings are hard to beat. Set in mid-west Mexico on the Pacific "Bahía de Banderas," this Port town of about 180,000 inhabitants enjoys over 300 sunny days a year and average yearly temperatures of roughly 28ºC (83ºF). It's no wonder Puerto Vallarta has become such a popular tourist destination!
If you like to be active, Puerto Vallarta is a great place to study Spanish. You can try all kinds of aquatic activities on one of the world's largest bays, like fishing, scuba diving, snorkeling, windsurfing, kite surfing, swimming parasailing, jet skiing, whale watching, and even bungee jumping over the Pacific. By land, there's hiking, golf, tennis, canopy tours or simply strolling and shopping.
Add to all of this a vibrant nightlife, a thriving art community and a beautiful Old Town of cobbled streets and stucco houses, and you have a coastal destination that truly has it all!
More About Puerto Vallarta
More Mexico Travel Guides