The Plaza de España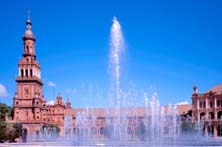 is located in the Parque de María Luisa in Seville. It was built especially for the Ibero-American Exposition, a world fair held by Seville in 1929. The plaza was designed by the Spanish architect Anibal González, and was intended to impress the other exhibitors and visitors from Spain and Latin America.
The plaza is 50,000 square metres, equating to roughly 5 football pitches, and has a semi-circular shape. It is surrounded on one side by a semi-circular brick building, with a north and south tower either end, visible from around the city, a canal and bridges, with the square itself in the middle. It is often described as "the Venice of Seville", as you can rent boats on the canal. The four bridges represent the four ancient regions in Spain, and there are 48 ceramic tiled alcoves with benches in around the plaza depicting its provinces. The plaza is dominated by its Moorish revival architecture, as seen by the extensive use of brick and ceramic tiles.
The plaza today is occupied by governmental offices, but it has been used as a site for filming; Lawrence of Arabia, Star Wars, as well as more recently the Sacha Baron Cohen film The Dictator all feature scenes in the Plaza de España.
Described by many as one of the most beautiful things to see in Seville, it is the perfect place to come and relax on a sunny day; you can read a book, take out a rowing boat or perhaps enjoy a horse and cart ride.