The winter holidays are a truly wonderful time to experience a new culture, as each town and country has its own set of time-honored traditions, holiday treats, music, etc. If you happen to choose Spain as your destination of choice, however, there is absolutely no chance you will be spending the end of the year in any other fashion than sipping a glass of smooth cava (Spain's answer to champagne) and gulping 12 grapes to the ringing tune of the twelve tolls on the bell.
So shake up your winter holidays this year and spend Nochevieja (New Year's) in Spain with Enforex! All of our schools are open all year round, including holiday seasons. What's more, you can even sign up for our special Christmas program, offered in several of our schools, which is specially designed for you to enjoy Spain's traditional winter celebrations. To learn more about this special program and the special activities and excursions we plan, see here: Christmas Program
Read on for more information about Spain's Nochevieja celebrations!
When and Where is Nochevieja?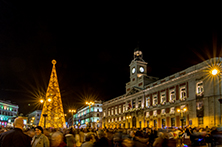 Well, the answer to the first question is pretty simple: Nochevieja is just the Spanish way of saying New Year's Eve. More specifically, Nochevieja corresponds linguistically to the now obsolete English form of referring to the evening of December 31: "Ole Year's Night." So, get ready to celebrate Nochevieja as night falls for the final time this year, and be prepared to keep going until far into the day on January 1!
Where all this should take place is a question better answered by you. Should you be looking for suggestions, however, we propose you uncork the champagne and ring in the New Year in cities and towns across Spain. Once the sun goes down, follow the hoards of festive españoles to the city's main squares – especially the plazas that have a clock – for the genuinely unique Nochevieja experience.
Madrid's Puerta del Sol is the most famous spot to be, serving as the Spanish equivalent to New York's Times Square. For one night, this becomes the center of the country's timekeeping, as people all over the nation wait to see or hear (on the TV, the radio, or live) the bells on the square toll, first with the four strokes for the hour, and then the all-important twelve strokes of midnight, to which everyone will be swallowing their grapes.
Nochevieja Traditions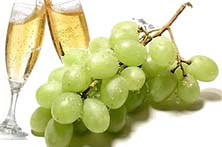 If you're planning to be in Spain for its Nochevieja fiestas, it's always helpful to know what the Spanish do and especially what you're in for. First, to say adios to the ending year, Spanish relatives typically get together for a holiday meal, after which they either gather around the television for the big countdown or hit the town to party with friends. At this point you should definitely gear up and do as the Spanish do, drink what the Spanish drink, and eat what the Spanish eat.
Before you hop on the party train heading towards the city's main square, make sure not to forget your Nochevieja essentials. Item one of your shopping list, especially if you're in Madrid, is the costume; almost everyone has brightly colored wigs, satirical masks, costumes, or all of the above. Part two is the champagne. Uncork your bottle of champagne or cava after the midnight chimes of the clock and toast everybody you see. The third, and most important item, is the twelve grapes. When midnight strikes, you have to rapidly pop those twelve grapes – one for each chime of the clock – in your mouth. If you successfully complete the feat, twelve months of prosperity and good luck await you. Plus, imagine how entertaining it is to look around and see thousands of people laughing, gasping and choking with their mouths full of grapes.
History of Nochevieja
While most of the Nochevieja traditions seems pretty typical, the twelve grapes deal probably has you raising your eyebrows and asking "Why?" Deviating from the norm, Las doce uvas de la suerte (twelve good luck grapes) is a Spanish tradition with a commercial, rather than a religious, foundation. It began in 1909, when grape growers in Alicante found themselves with an extremely large grape surplus and scrambled to come up with a way to sell them all... Now there's good marketing for you!