The Liveliest Cities in Spain
Spain is synonymous with parties and good times. Can you imagine yourself being in one of the places where the best parties are? These are places that you have to visit at least once in your life, but how do you know where to go?
Probably the most well known place for partying and nightlife is Ibiza. This fun island which forms part of the Balearic Islands has discos for every musical taste and style. This is also where the famous and "beautiful" people go to get away to listen to the best DJs spin their hits. Best of all, when you're not out clubbing, you can relax on the world famous beaches found there.
Another place with the well earned fame of being a "city that doesn't sleep" and we are not talking about New York because the place I'm referring to is Madrid. On every street throughout the city you will find at least one bar and in every neighborhood you will find an area with great nightlife. Huertas, Malasaña, Arugüelles are just a few of the neighborhoods with exceptional offerings. You will need a few nights to get to start to know them!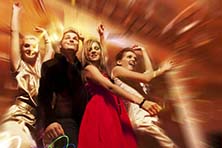 A city with a lively university atmosphere and a reference in Spain has to be Salamanca. How can there not be a lively party atmosphere when the student population blooms to 32,000 people? The best places to have fun are centrally located and easy to find, all you have to do is go to the Gran Vía or Bordadores street.
Ah, Granada, a city that combines the friendliness of Andalusia and with a university atmosphere all found within a landmark city. The area around Pedro Antonio Alarcón is highly recommended as a center for fun, however anywhere around this amazing city you will be able to find someplace special. We've also heard that the best mojitos in Spain are served here!
Another city in southern Spain that I'm pretty sure you've heard of is Seville. The capital of Andalusia, has the advantage of having a festival of one kind or another practically every month. This means you will not have a hard time finding people dressed in typical flamenco clothing and flamenco-styled bars and discos playing the latest music. Seville knows how to party and parties know Seville!
Of course, we can't forget Barcelona with its wide boulevards and lively atmosphere. The Ciudad Condal has its Gothic Neighborhood and Las Ramblas which house everything from the most exclusive discos to alternative music halls. Here you'll find whatever you are looking for.
With this short list of favorite places we are sure to leave some places out. There are many more cities that you can go to and have a great time. You job is to come here and discover them and don't forget to invite us out!