Those who love to read in Madrid, have an event in the city every year that they just can't miss: the Feria del Libro (Book Fair), celebrated in the famous Parque del Retiro. This year the event celebrates its 75 anniversary spreading culture through the pages of its many books.
If you know about the history of the fair, you'll know that the first edition took place in 1933. But wait a minute… how can it be its 75th anniversary and not its 83rd? Keep in mind that the fair was canceled in 1936 because of the Spanish Civil War and it was not celebrated again until 1944, with the name "Feria Nacional del Libro." In later years it would change locations becoming a nomadic event celebrated throughout Spain. It wasn't until 1967 that the fair was established definitively in Madrid in the Parque del Retiro. In 1982 its name was changed to the current name: Feria del Libro de Madrid.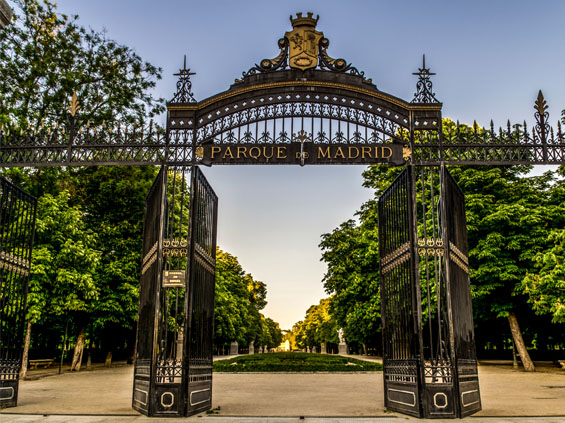 One of the many entrances into Retiro Park
Few things have changed since: the fair is found along the paseo de coches, a large paved bike and walking path with book stalls set up along both sides. Visitors can easily reach the event through the Puerta de la Reina Mercedes (Queen Mercedes' Gate), close to the Ibiza metro station. From there, you don't have to walk the length of the park to get to the event. But once you've made your purchases, it's the perfect opportunity to explore the park and take in all its beautiful greens, blues, pinks, yellows and purples. Although it's true that a visit to the Feria del Libro could easily take up your entire afternoon.
We understand that it's not always so easy to do, but the best times to go to the fair are Monday through Friday (from 11 a.m. to 2 p.m. and from 6 p.m. to 9:30 p.m.). It gets crowded on weekends, but if it's the only time you can go, it's best to arrive early in the morning or afternoon (on weekends, hours are extended from 11 a.m. to 3 p.m. and from 5 p.m. to 9:30 p.m.).
Going to the fair really could take up an entire afternoon. There are over three hundred book booths representing different publishing houses and book stores… and even houses that offer replicas of medieval books (at incredible prices)! There are also tents with exhibits, presentations and even lectures and there are terraces for anyone who would like to relax for a minute with something to eat or drink. A piece of advice though: if you want to give your feet break without having to pay for a drink, you can slip through the stalls and take a seat on one of the benches hidden behind the booths. And another tip: bring a bottle of water and a snack home, vending machines are a little pricey.
And a little more about money… One of the most attractive parts of the fair is that books are usually sold at a discount, although it's a good idea to go with a budget in mind, or to get your calculator out in order to not be surprised by your spending after walking the whole fair. Also, and this advice is a bit more for experienced book lovers, it's a good idea to stroll through the fair twice: once to get an idea of prices and to think about the books you may want to buy (to avoid impulse purchases) and the second to buy, buy, buy. You could find more affordable editions of the books you're looking for if you hold out and keep your eye out!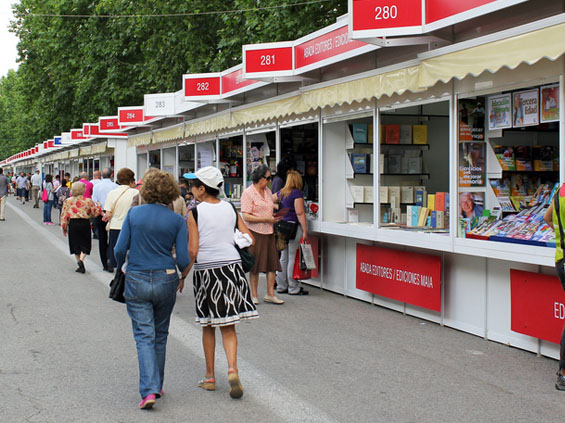 Book stalls at the Feria del Libro de Madrid
Without a doubt, the fair's most important events are the book signings. The lines of people waiting in front of booths for their favorite books to be signed by famous authors can seem unending, but if you want an autographed edition of a book, you're going to have to stick it out. We do recommend that before jumping in line, you find out which booth your favorite author will be in first (take a look at the fair's website for this information).
And one more thing! Be careful, many visitors have confused book authors with booths' book sellers. It doesn't bother writers, but you never know what character you could end up inspiring for future novels, or which chapter of a book of memoires you may end up appearing in.
Now that you know all of this, we can only wish you one thing if you go to the fair: good hunting!