Learn Spanish in Puerto Vallarta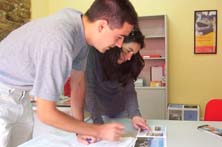 The natural beauty of the surroundings will certainly help you relax during your Spanish courses in Puerto Vallarta, Mexico's traditional city and the furthest west of our language schools. There is so much to see and do here that your time outside of lessons is sure to be packed, as you will be able to see on the other pages associated with this course – and the great pictures you will find of the location. But what about the time that you spend in class?
The following Spanish courses are available in Puerto Vallarta, Mexico. Please use the links below for course details:
Spanish Courses in Puerto Vallarta, Mexico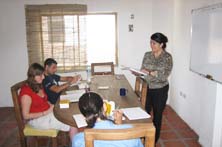 There are a number of great options at the Puerto Vallarta school, more than in most of the Latin America locations, so you will find yourself spoilt for choice. If you are studying Spanish for a particular reason, then you may find it useful to take part in one of our specialist courses, designed to give you the correct vocabulary needed for a certain cause. With a medical, business, tourism or legal option, these will give you access to specific words and phrases that would not be in common usage outside of these disciplines, giving you an advantage over those who learn through basic courses. You will find them a great gift to your working proficiency, so take the chance now if they would help your career.
If language is your career, then you might be interested in our Spanish courses for teachers. These will equip you with everything that you need to answer in class questions, as well as bringing your own language to a standard that is far sufficient to allow you to pass on the knowledge to others. Be careful, though – you may fall so in love with Puerto Vallarta that you want to stay and teach here yourself!
We also give the standard Enforex Spanish courses at this location. The intensive course suits most learners with a perfectly balanced syllabus and lessons that are neither too long nor too short. If you cannot spend much time with us and want to amp up the learning as much as possible, you can take a super intensive course that fits more hours of lessons into the week, giving you the chance to learn more in a shorter space of time. We also have a more flexible program, through which you can choose how many of your lessons are private and how many in a group, and how many hours you spend in class during the week, to see which fits you the best.