Learn Spanish in Bogotá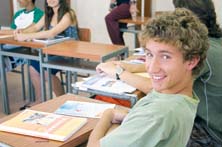 At Enforex Bogotá, we offer our students a wide range of course options, allowing them to choose the one that best suits their needs and goals. We have intensive, super-intensive, and part-time courses, and if the student would like personalized instruction, we also have intensive and super-intensive private classes. We also offer specialized courses on subjects such as medical Spanish and business Spanish, as building language skills in a specific field gives job seekers a valuable advantage.
Enforex also offers a special course in which students learn Spanish and they also get to volunteer. This course gives students the special opportunity to gain personal insight into Colombian society by getting involved with the local community.
The following Spanish courses are available in Bogotá. Click on the Spanish course you're interested in to see more details.
Spanish Courses in Bogotá, Colombia