Host Family Accommodations in Latin America
Home stay with a single or double room and either half or full board is the primary housing option in Latin America and private rooms are always available. Our experience has shown that living with a host family is the best way to fully immerse yourself in the local culture, customs, and traditions of whichever country you choose.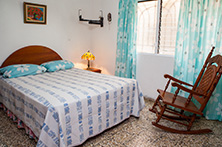 Our host families vary from young families to one or two retired people, all Spanish speakers. All families have been carefully selected in order to ensure that your stay be as pleasant as possible, and in Latin America you'll find that the families warmly welcome students as one of their own. It's important to remember that the standards of living in many Latin American countries are lower than what those of North America and Europe. The families belong to the middle class or higher in their countries, but this may mean a simpler way of life than what you're used to. We encourage students to keep an open mind and be willing to adapt to the local customs when necessary.
We will always try to accommodate students within 20-30 minutes from the Enforex School by walking or public transportation. Traveling with a friend? No problem: you can request to be placed in the same house if you so desire.
More Accommodations in Latin America