Visit Coronado During...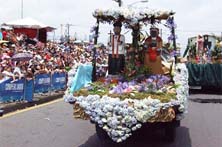 Festividad de San Isidro Labrador
Celebrated each year on the 15th of May to honor Saint Isidro, this local festival features livestock exhibitions and traditional festivities.
December & January
In terms of weather, the months of December and January are excellent for a Costa Rican adventure. They fall during the dry season, which means sunny and clear days, yet it's also soon enough after the rainy season to catch the verdant scenery at its peak.
Learn Spanish in Coronado
Spanish School in Coronado
Spanish Courses in Coronado
Coronado Accommodations
More Costa Rica Travel Guides
Flamingo Beach Guide
Heredia Guide
Monteverde Guide
Playa Jacó Guide