"Navidad en martes, fiestas por todas las partes" (Christmas on Tuesday, fiestas everywhere)
This is a saying that makes less of a moral statement and contains more of an accurate description of reality. In this case it refers to the fact that if Christmas day falls on Tuesday there are holidays everywhere. Let us look at the theory: if Monday is Christmas Eve, and in many places people get this day off or at least a reduced shift; Tuesday is Christmas (which is a national holiday); Wednesday many people take off in order to recover; it makes no sense to go to work on Thursday because there are just two days left in the week... And why would you do it on Friday when you know you cannot possible get done everything that you did not do during the week? We know what you might be thinking..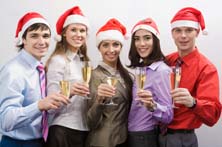 Are Spaniards really so lazy? In reality, no. Although we would like to have the full week off, many go back to work on the 26th. In fact, for many people having Christmas on Tuesday actually has many disadvantages because they no longer get a 3 day weekend. Also, for many small food stores it can cause problems with their suppliers.
So is the saying true or false? Well, let's just leave it as a utopia not extent of irony.
Other popular Spanish Sayings