Celebrate a saint by running from bulls, burn down giant works of art in the city streets, or fight a battle using tomatoes as your only ammunition. These traditions might sound strange at first, but they're actually some of Spain's best-known festivals: San Fermín, las Fallas, and la Tomatina.
What most people don't know is that Spain has a whole lot more unique festivals that are relatively unheard of outside the region where they're celebrated. Ready to dive into the unknown?
Danza de la muerte in Verges (Catalonia)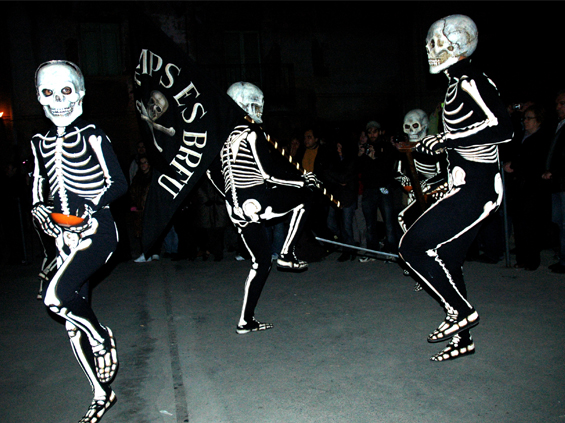 Source: wikipedia
This macabre ritual, in which people dressed as skeletons dance around town, has taken place in this village in Gerona for centuries. The tradition dates back to the Middle Ages, when plague epidemics swept through Europe. The message? Life is short, death awaits us all.
El Mariquelo de Salamanca (Castile and León)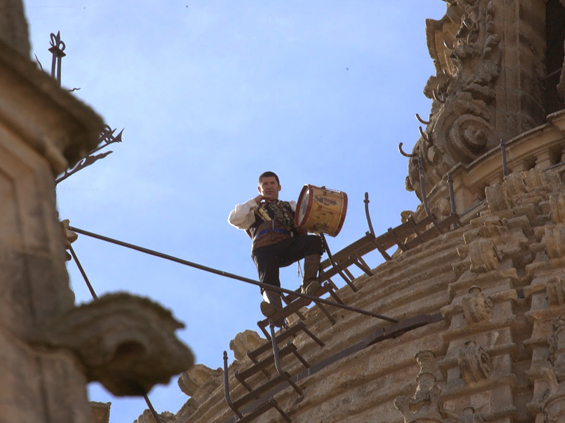 Source: Ismamar
If you happen to be in Salamanca on October 31 and see a man climbing the tower of the New Cathedral without equipment or ropes don't worry, you're just seeing the Mariquelo. This courageous character keeps up the tradition of thanking God that the Lisbon earthquake of 1755 left no fatalities in the city.
Os Peliqueiros in Laza (Galicia)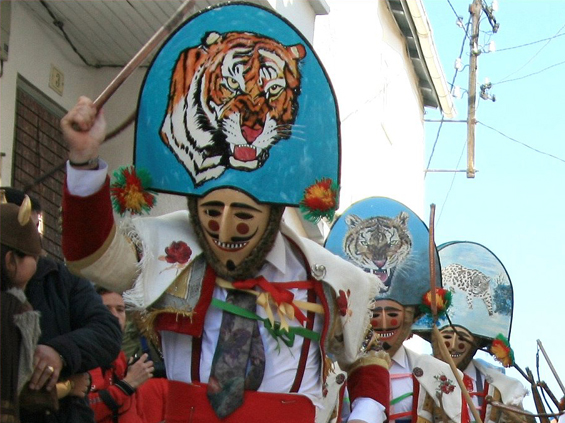 Source: wikipedia
The origin of this carnival from Orense is so old that there is no record of its first celebration. People talk about Romans or Celtics... but no one knows for sure who the first people to parade around with these smiling wooden masks topped with animal drawings really were.
Los Enharinados in Ibi (Valencia)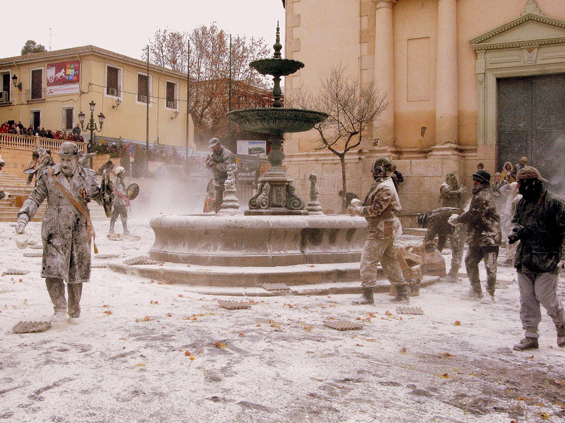 Source: wikipedia
Every December 28, a group of 14 married men stage a takeover of the town and make new, ridiculous laws to enforce. Those who fall foul to the new rules have to pay a fine or be covered in flour and eggs and locked up. The opposition soon gets together and declares war on the first group. Battles ensue with flour, eggs, and firecrackers as the main weapons. When the day is done, the coup comes to an end. The people celebrate with traditional dances, and the money collected in fines is donated to charity. As with many other celebrations, the origin of this one is uncertain, but it is thought to date back hundreds of years.
San Antón in Madrid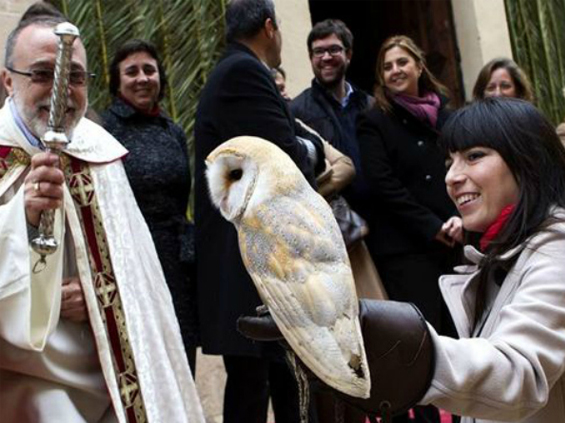 Source: euroresidentes
Every January 17 at the church of San Antón in Madrid's central Chueca district, you will see a long line of people waiting with their pets, which they've brought to be blessed by the priests. Cats and dogs abound, but pet owners also bring more unusual animals, such as lizards, birds of prey, and farm animals, to have them sprinkled with holy water on the feast of Saint Anoton, the patron saint of animals.
Día de la Almadía in Burgui (Navarre)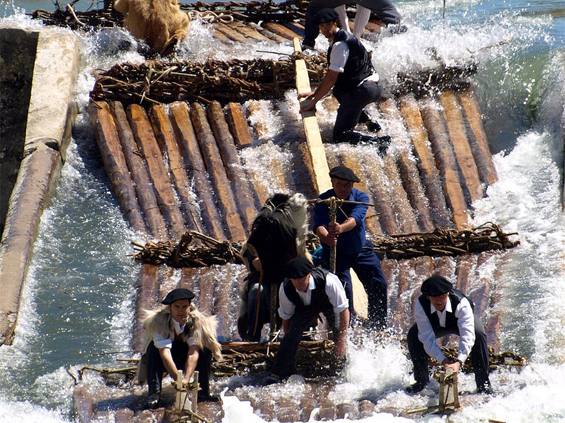 Source: Flickr
In early May, locals dressed in regional costumes reminisce about a time when wood harvested from the lush forests in the area was carried down the River Esca on rafts. It is a spectacular celebration but not without risk.
Descenso Internacional on the Sella River (Asturias)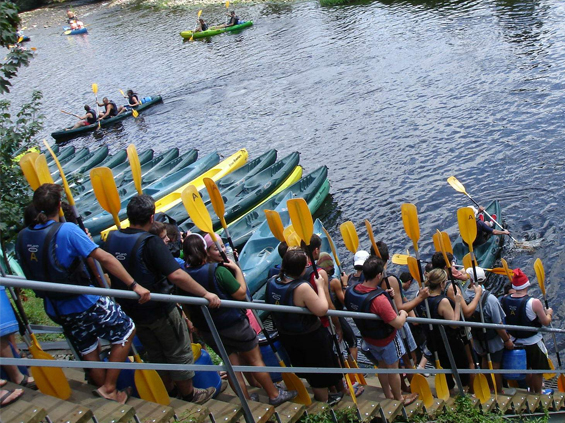 Source: wikipedia
This event is more than 75 years old. On the first Saturday following August 2, tons of canoeists boat down the Sella River to celebrate. Is it a massive party that unites sports enthusiasts and revelers or a competition strangled by its own success? A controversy to consider.
Encierro del bus in Torralba (Aragon)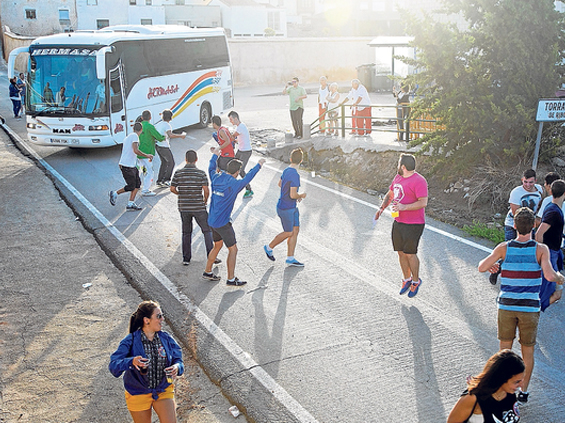 Source: heraldo.es
About 40 years ago the city hall of this town in Zaragoza forgot to ask for the legal permits necessary to hold the running of the baby bulls. Their solution? To let a bus "run" through the town, as if it were the bull. The local youth ran from it, and since the idea was a success, the town decided to get rid of the bulls in subsequent editions of the event, too! It may seem a little odd, but we assure you, it is much safer to be pursued by a cautious driver honking the horn than by a runaway bull.
The Vijanera in Silió (Cantabria)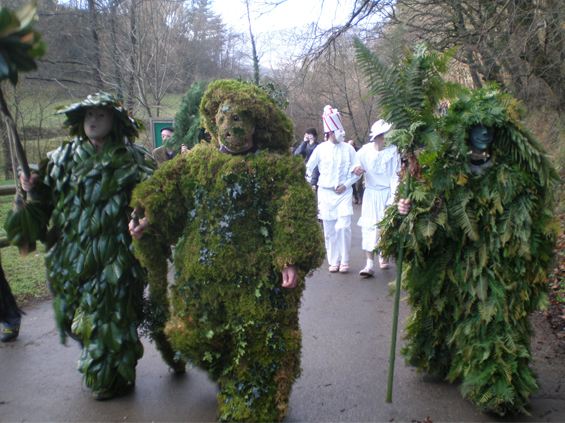 Source: wikipedia
This celebration is an impressive masquerade which takes place on the first Sunday of the New Year. Up to 75 characters infused with meaning and metaphor about the mystical and the human experience represent the struggle between good and evil and the birth of the New Year... along with other rituals lost in the mists of time. Among the characters you can find zamarracos dressed in sheepskins and loaded with bells, who are responsible for warding off evil spirits, and trapajones, whose costumes are made with natural materials such as bark, leaves, ivy, and straw. This festival will transports you to a magical time and place!
There is no shortage of curious, meaningful, and unique festivals in Spain. In fact, we've left quite a few off this list! We hope you'll come discover them for yourself when you come to Spain and study with us!