2014. A Bad Year for Spanish Sports?
This year we have seen the defeat of the Spanish national team at this year's World Cup in Brazil as well as the defeat of the national basketball team in the Basketball World Cup (which was also held in Spain). We also witnessed Rafa Nadal failing to pass the quarterfinals in Beijing. All of these defeats have combined to make us come down to earth. Is the Spanish supremacy in sports ending? Are there no more battles to be fought by this generation of athletes? Fortunately the answer is no.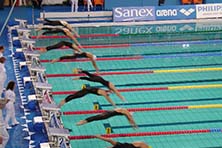 The reality of Spanish sports today is that there have been some amazing victories this year. Recently, the Spanish women's national basketball team won the silver in the Women's Basketball World cup; swimmer Mireira Belmonte won the gold in the 800 freestyle and silver in the 200 individual medley at the World Cup in Russia; the rhythmic gymnastics team won gold in the clubs routine in the past World Championship; Carolina Marín became first Spaniard and the youngest World Champion in singles badminton; The women's national soccer team classified for the next World Cup and Spain won nine medals in the Under-21 Taekwondo European Championship. And I could keep going.
Not too bad for small country like Spain, right? But why haven't we heard much about these achievements? Alejeandra Querena, captain of the Spanish rhythmic gymnastics team, said in a recent interview: "It's very sad that we are world champions and you don't even see it on television." Many people think that the reason behind this is that these achievements happen in sports that are considered to be less popular (It is common to hear people say that in Spain "there aren't any other sports except for soccer) or because they lack funding and sponsors especially in this time of economic crisis.
Sports in Spain are doing very well and Spanish athletes continue to triumph on the world stage. But the reality of their situation is that if no one tells their story it is as if their achievements never happened. Should the media change or should we change the media? The debate is on.