The Best Pools in Madrid: How to Stay Cool in the Capital
Summer is here! In Spain's hip capital, that means it's time to hit the pools, grab a chilled horchata and enjoy the sun. Madrid may lack a beach, but it has plenty of ways to make up for it. Enjoy posh rooftop pools, lively public pools, thrilling water parks and gorgeous natural pools just outside of the city.
Rooftop Pools in Madrid
Feeling swanky? Head above the rooftops to these gorgeous rooftop hotel pools. You can enjoy panoramic views, poolside service and a little more privacy. Entrance fees vary and will cost you more than the other options, but it's worth it!
Emperador Hotel
Number one on our list looks out over Gran Via from the center of the city all the way out beyond the city center. It offers a solarium with hammocks, lounge chairs and towels, a restaurant, locker rooms and is open until 9 p.m. Rates vary depending on dates, but they are usually €30-€40 and free for people who stay at the hotel (so you may want to convince your family to stay here when they visit!). Enjoy good food, refreshing water, luxuries of a four-star hotel and a true oasis in the middle of the city.
Address: Calle Gran Vía, 53, 28013 Madrid (Metro: Santo Domingo)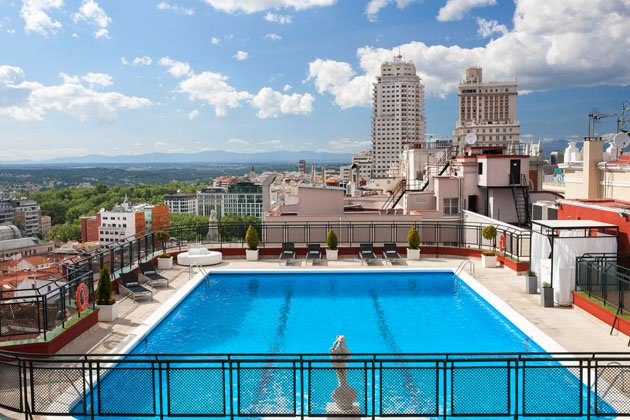 Hotel Emperador
Room Mate Óscar's Terrace
Enjoy 360 views from the heart of the trendy Chueca neighborhood. Here you will find an award-winning bar, solarium and a lively atmosphere. It's also free for hotel guests, but non-guests have to pay €35-€60 depending if you want to stay for a full or half day and whether it's a weekend or not.
Address: Plaza de Pedro Zerolo, 12, 28004 Madrid (Metro: Chueca)
Best Public Pools
The good news is that you don't have to shell out a lot of money to enjoy Madrid poolside. There are plenty of spacious, green and pleasant public pools available at a fraction of the cost. They have a great energy and usually offer sports centers and activities throughout the summer.
Centro Deportivo Municipal Francos Rodríguez
We are happy to travel slightly north of the city center to our favorite green space in a residential neighborhood near the university. Complete with grass to lie down on and volleyball courts, this is a wonderful place to relax on a hot summer's day. The pool is open from 11 a.m. to 9 p.m. and costs €4.35 for students.
Address: Calle Numancia, 11  (Metro: Francos Rodríguez)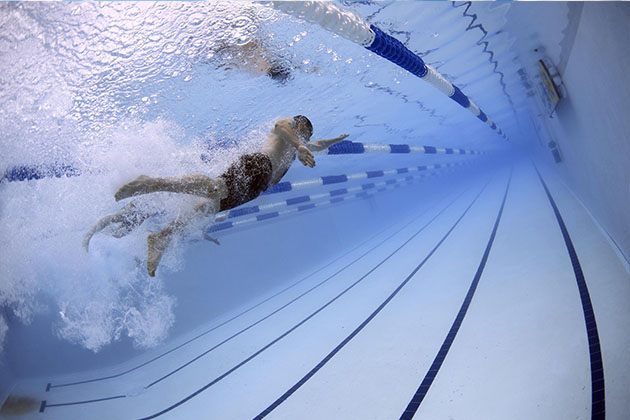 "Lago" – Centro Deportivo Municipal Casa de Campo
A very popular option for good reasons, Casa de Campo is home to a large sports center with three pools, grassy parks, a bar and restaurant. It's well known for water sports games and classes. It is open until 9 p.m. and costs €4.35 (youth ticket) or €6 (adult ticket).
Address: Paseo Puerta del Ángel, 7 (Metro: Lago)
Natural Swimming Pools
If you are craving some time outside of the city, check out the natural pools, which are located in the mountains and are filled with chemical free water pumped in by the nearest river.
Piscinas naturales de Cercedilla (Las Dehesas)
This one is easily accessible by public transportation, but be aware that you will have to walk about 45 minutes from the Cercedilla Train Station to the pool or take a bus. The walk is lovely, you won't regret it. The pool is surrounded by green grass and pine forest. It's open from 10 a.m. to 8 p.m., takes roughly an hour to arrive (using the Cercanias train) and costs between €5.50 and €6.50 depending on whether you go on a weekday or weekend.
Address: Regional Park Cuenca Alta del Manzanares, 28479 Cercedilla, Madrid
Water Parks near Madrid
Looking for more adventure? There are several parks that are easily accessible by public transportation from Madrid. It's a popular and fun way to spend a day in the sun with your friends and stay cool on hot days.
Aquopolis Villanueva de la Canada & San Fernando
Aquopolis has two locations near Madrid and offer fun activities for people of all ages. Enjoy thrilling slides, lazy rivers volleyball courts, attractions. Entrance fees are €15 for Aquopolis San Fernando and €25 for Aquopolis Canada.
Address Villanueva de la Canada: Avenida de la Dehesa, s/n, 28691 Villanueva de la Cañada, Madrid
Address San Fernando: Carretera Nacional II, Km 15.5, 28830 San Fernando de Henares, Madrid