Accommodations in Havana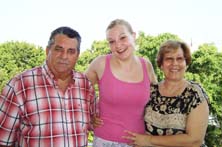 The home stay is a key part of your study abroad experience in Havana, Cuba.
Host families (single or double room, half board)
Not only will you eat meals and live with a local family, you may even take small group classes in your home, since there is no centralized Spanish school in Havana.
All families live in the Vedado neighborhood, a peaceful, suburb-like area popular for dancing and eating out. Vedado's streets are full of colorful buildings and murals by local artists. When you live with a family in Vedado, you'll get to practice your Spanish all the time with a caring family, and better yet, you'll be in walking distance from the coast!