Learn Spanish in Latin America
Get to know more than 20 Spanish schools in 11 Latin American countries!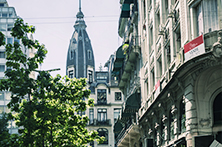 Many of our academic centers in Latin America are Enforex partner schools, which means that course characteristics and services might vary slightly from ours. Nevertheless, rest assured we guarantee you the highest quality of teaching, materials, methodology, facilities and accommodations at our Spanish partner schools in Latin America.
Embark on a Spanish language adventure in Latin America and you can...
Mix and match Spanish Programs throughout Latin America destinations.
Plan your studies by dealing with just one office: our Head Office in Madrid
Start a course any Monday, all year round (excluding absolute beginners in some cities).
Enjoy a maximum class size of 4-8 students.
Participate in 3-5 cultural activities per week such as dance lessons, cooking demonstrations, guest lectures, slide shows, movies, theater nights, happy hours, etc.
Go on fantastic excursions, from beach trips to skiing to trekking through Patagonia and more.
Get around the city easily, as each school's location has been carefully selected to be near public transportation, shopping, restaurants and other points of interest.
Meet students from all corners of the world.
Receive U.S. university credits for several institutions.