Accommodations in Playa Jacó
When you study Spanish in the Costa Rican city of Playa Jacó, there are currently two accommodation options from which to choose: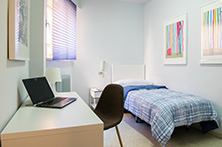 Our Spanish school in Playa Jacó carefully selects families who will welcome you into their home, invite you to family gatherings, special events and incorporate you into their day to day lives. Not to mention, this option allows you to try typical regional foods, given that you'll be on a half board meal plan (breakfast & dinner).
Your family will speak to you in Spanish 100% of the time. It's the perfect recipe to improve your Spanish skills by leaps and bounds!
Living in a shared apartment, on the other hand, provides a completely different and more independent experience. You will be able to prepare your own meals, set your own time schedule and enjoy the lifestyle that suits you best... all the while sharing experiences with fellow students from around the world!