Enforex offers you 12 emblematic destinations to learn Spanish in Spain.
Learn Spanish in Spain
Learn Spanish in Spain, a country that offers everything you could possibly look for in a place to live: good weather, a vibrant social life, excellent cuisine, friendly inhabitants, rich culture and traditions, a fascinating history, and a varied landscape from the lush mountains of the north to the beautiful beaches of the Mediterranean.
Read more information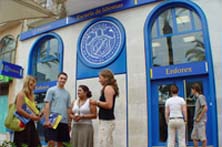 Spanish has grown over the past decades to become the most popular and widely spoken language in the western world, bar English. With statistics like these it is easy to understand why one might choose to learn Spanish in Spain. Close to half a billion people speak it as their first language, with a population close to that of the United States speaking a variety of forms across South America and just short of 50 million people in Spanish speaking the peninsular strand.
While different environments, heritages and political alignments have evolved into different accents and vocabularies both within each of the Spanish-speaking countries and, most markedly, from one country to another, standard Spanish (as in the traditional sort developed in the kingdom of Castile over the course of centuries) still remains the overwhelmingly dominating material underpinning all forms of modern Spanish, to the point where the rule is common understanding between people stemming from places as distant as Argentina and Catalonia, for instance, with the occasional instances of incomprehension standing out as recurrent but utterly solvable exceptions.
Many Possibilities to Study Spanish in Spain
At Enforex, we offer a wide array of destinations within Spain in order to encourage students to improve their language skills while simultaneously enhancing their understanding of Spanish culture through a meaningful visit of the country's most emblematic destinations. That's why we have deployed an important network of schools in 12 unique cities that encompass the full diversity of attractions found on Spanish soil, from the dusk-'til-dawn nightlife of Madrid to the golden architecture of Salamanca, the Arabic palaces of Granada and the sun-soaked beaches of Marbella.
Whether you are attracted to the sophistication of fine art, or at awe with the beauty of wildlife, at one with nature or more at home in the swarming anonymity of a modern metropolis, there is something in Spain to appeal to everyone. Nevertheless, particularly when it comes to combining intellectual and recreational activities, it is important to weigh your options with time in order to come up with the best available option. So start planning your visit and make the most of your stay when you come to study spanish in spain!
Spain has a lot to offer, from its incredibly varied and delicious gastronomy (paella, gazpacho, tortilla and much more) to its warm weather ideal for beaches, from its natural beauty that includes the ocean, mountains and rivers to its lively nightlife and some of the most significant 20th century art in its many major museums, which provides the perfect setting for those who wish to study spanish in spain.
To go with this intense variety of choices, we have envisioned close to two dozen courses, tailored to fulfil the needs of the most demanding of tastes. Ranging from intensive and super intensive programs, conceived for those who seek to improve their language skills at the quickest possible rate, through combined courses that blend language lessons with all kinds of disciplines, from literature or history, to medicine, business and commercial Spanish, to active programs of interaction for the less inclined to sit back and relax, you are certain to find a course that suits you in our list.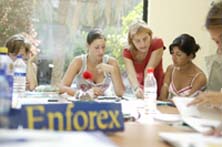 As many as 12 destinations, from the sunny coasts of Alicante, the subdued atmosphere of Pamplona, the university environment of Salmanca or the recondite splendor of Tenerife, as well as, of course, presence in the biggest cities in the country, Madrid, Barcelona, Valencia and Seville, Enforex offers over 20 different Spanish programs, with widely varied types of accommodations offered in each location and an array of high-quality services that include assistance in all matters related to your stay in spain, from transportation to and from the airport, to the cleaning service in your accommodation of choice.
Take a look inside and get the in-depth scoop on our Enforex Spanish schools! If you are looking for a nice place where to spend a season and you are interested in improving your language skills, this is a great opportunity to come and learn Spanish in Spain!